Hauschka. Concert. Presentation of "Abandoned City" album
15 May 2015, Friday 03:00
On May 15 German composer, songwriter and experimental musician Hauschka will present "Abandoned City" album at Erarta.
Hauschka is a composer, songwriter and experimental musician who has brought an exciting new perspective to the prepared piano. The prepared piano — a technique for getting new sounds from the acoustic keyboard by resting pieces of paper or drumsticks on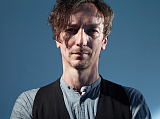 "I wanted the sound of a hi-hat (cymbal) to add a percussive effect to a composition I was writing. I took foil from a Christmas cake and wrapped it around the strings [inside the piano]. From there, I was inspired to use other objects on the strings to get bass drum sounds, or tacks on the piano hammers to get the sound of a harpsichord. When I was playing techno music, I had samplers where you could get a different sound on every key. I thought it would be great to have that effect on an acoustic piano. I was not aware of John Cage (one of the first 20th century composers to use prepared piano) when I started searching for ways to alter the sound of the keyboard, but as I got more into prepared piano, I was influenced by Cage's theories", — says Hauschka.
"The Prepared Piano", Hauschka's first recording using prepared piano, was a solo album of spontaneous improvisations. The sounds he generated changed the course of his musical journey and he's since used prepared piano in a variety of settings. On "Ferndorf", pieces composed in honor of his childhood home in Germany, he balanced improvisation with compositions that featured cellists, trombonists and violinists playing his inventive arrangements. The "acoustic techno" of "Salon des Amateurs" featured drummers Samuli Kosminen (Múm), and Joey Burns and John Convertino (Calexico) and dropped subtle electro effects into the mix. On "Silfra", an improvised collaboration with classical violinist Hilary Hahn, he dipped into classical music and ambient pop to create an expansive soundscape. With "Abandoned City", Hauschka returns to the solo prepared piano to produce an evocative work full of unexpected grace notes and mysterious sounds.
"Abandoned City" was recorded in Hauschka's home studio in a burst of creative energy following the birth of his first son. With the exception of 'Elisabeth Bay,' which is based on a piece of music I wrote for a reinvention of Wagner's "Flying Dutchman", the music was composed and recorded in ten days. The compositions on 'Abandoned City' awaken the loneliness and unattainable romance of timeless, unfamiliar places, with cinematic melodies full of resonant overtones, bright cheerful keyboard patterns and dark percussive touches. The tracks all bear the names of actual vacant cities.
Hauschka chose "Abandoned City" as the title of the album to convey the sense of hope and sadness that consumes him when he's sitting alone at the keyboard. "I was interested in finding a metaphor for the inner tension I feel when I'm composing music, a state of mind where I'm lonely and happy at the same time, — Hauschka explains. — When I saw photos of abandoned cities, I felt it was perfect. People once lived there, but they left in a rush and now nature has taken over in a beautiful way, things are growing up from the sidewalk and the seasons are changing colors. The music is dark, but in a quiet, uplifting way. The piano is singing the melody but, because of the effects, you can't hear it directly. It's like the sound of a choir under the earth, something you feel without realizing it".
Hauschka Biography
Düsseldorf-based pianist and composer Volker Bertelmann aka Hauschka announces tour dates to coincide with the release of his new Abandoned City album, released on City Slang this Spring. Inspired by innovators from John Cage to "Aphex Twin", Hauschka is known for his compelling live shows that reimagine the textural and timbral possibilities of his instrument by carrying out an array of imaginative 'preparations' on its internal mechanisms.
Recorded in his home studio in a ten day burst of creative energy following the birth of his first son, "Abandoned City" evokes the ghostly romance of the ruin via his trademark piano preparations and — for the first time — extensive electronic processing. An array of delays, reverbs and pitch-shifting effects bend to his will to create a shimmering world of layers and timbres that eminate from the piano.
From perfectly formed miniatures to longer suites and freeform improvisations, Hauschka has an awareness of light and shade, combined with a melodic charm and innate curiosity that makes listening to his music an engrossing sensory experience. The live show will be a chance to experience the imaginary landscapes and spontaneous lyricism of a unique composer first hand, and share in his ongoing romance with the piano.
"Satie feather-drops, gorgeous string plucks, transfixing rattles. Stillness is the move" — Rolling Stone
"The sounds that Volker Bertelmann creates with(in) a piano are nothing short of astonishing… a triumph" — Mojo ****
"A rapturous exercise in acoustic 'electronica" — Uncut ****
"Ingenious and exquisite" — New York Times
The event is supported by Goethe-Institut.