Alexander Popykin. My Music
02 September 2020 — 29 November 2020
Erarta Museum presented an exhibition by the Krasnodar-based artist Alexander Popykin who transforms everyday city scenes into alternative reality visions
Street culture closely observed by the artist
Colour as a way of expressing creative visions and ideas
Distinctive language of the urban space equally fit for a yell, a moan, or a meaningful conversation
Alexander Popykin's solo exhibition celebrates the turbulent life of the streets. The artist found inspiration for this series of paintings quite literally on the go, during his daily commute to the studio and back home. All the action takes place in the rather prosaic-looking five-storey housing estate bearing a surprisingly poetic name of the Musical Neighbourhood. Looking like photographic negatives, Popykin's artworks transform ordinary urban scenes replete with passers-by and pigeons into alternative reality visions.
For a long time, Alexander Popykin was fascinated with graffiti in their original, old school form. At some point the aspiring graffiti writer suddenly noticed that the combination of wall texture and colour is expressive in its own right. Thus an early interest in a subcultural artistic practice has morphed into a genuine interest in painting.
Realising that colour is always charged with emotional power and capable of conveying creative visions and ideas, Popykin gained a fresh perspective on the everyday life of his Krasnodar neighbourhood. The naked tree branches and the colourful tangle of plastic bags by the garbage bin — it all perfectly fit together into a picture of some yonder world. Popykin's works can be interpreted as a kind of X-ray of the fabric of reality or a thermal wake that gives the urban space a language equally fit for a yell, a moan, or a meaningful conversation.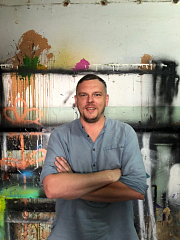 about the artist
Alexander Popykin (aka Cox) is a Krasnodar-based artist. In 2000, he graduated from the Krasnodar Preparatory School No.87 art class. In addition to college degrees in Environmental Studies and Natural Resources Management and Law, in 2018 he completed the course at the Sreda Obucheniya Higher Education School (Moscow). The artist's works were acquired by private collectors in Russia, Israel, and the USA.