Alexandra Efimova. Faster than the Wind
02 September 2020 — 29 November 2020
Erarta Museum presented the first solo exhibition by Alexandra Efimova whose artworks are full of motion and childlike joy of play
Pictures vibrant as dreams
Desire to capture the present moment
Paintings resembling musical improvisation
The exhibition by Alexandra Efimova is a very personal affair: these paintings are like excerpts from a kind of visual diary that the artist kept for the past two years. One gets the impression that all artworks emerged virtually on the go. Their apparent rawness results from the artist's desire to capture the immediate impulse that sets her inner world in motion. These pictures are a bit like experimental music: free improvisation, initially perceived as aural chaos, but confidently taking hold of the listeners and sweeping them along with the powerful flow.
Rather than trying to articulate a definite message, Efimova immerses the viewer in a dreamlike atmosphere. It is but on rare occasions that we can recall our dreams in every detail: normally the visions flash at lightning speed leaving no trace in memory, a mere succession of metamorphoses. In the artist's private world, children attend to their regular preoccupations: jumping a skipping rope or constantly running somewhere, they dart past so fast that they literally appear to dissolve into thin air or blend with the wet pavement.
Everything here is in motion: the fiercely fighting roosters, the horse galloping at top speed, the ghostlike dog jumping over the barrier, the birds flapping their wings. Hardly has the eye registered a certain image when it already begins to fade, becomes transparent and elusive. Children and animals by turns appear and disappear, while the space around them continues to live at its own pace, governed by the oneiric laws skilfully modelled through the medium of painting.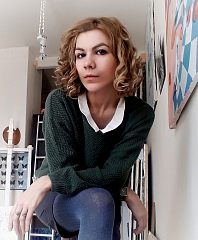 about the artist
Alexandra Efimova was born in 1989 in Bryansk. She graduated from the Bryansk Art College and the Russian Academy of Arts' St. Petersburg Repin Institute for Painting, Sculpture and Architecture (2020). Since 2017, Alexandra has been actively involved in various art residence programs: having presented her first project in Portugal in 2017, she later had a chance to work in Spain, Belgium, and Poland.