Marina Fedorova. Cosmodreams
02 September 2020 — 01 November 2020
Erarta Museum presented an exhibition by Marina Fedorova reflecting on outer space and its intrusion upon the earthly world of glamour
An instantly recognizable style inspired by the 1990s glossy magazines, Hollywood films and Instagram trends

Delicate but fearless female characters with a childlike trust in deep space

Augmented reality that allows the dreams of zero gravity come true
Marina Fedorova's painting style, inspired by the 1990s glossy magazines, Hollywood films and Instagram trends, is instantly recognizable. The Cosmodreams project, which sees the world of earthly glamour 'invaded' by the outer space, evolved in phases. Its predecessor, the Reflections series, featured Fedorova's trademark characters surrounded by the star-like glimmer of shop windows and spellbound by the mirror world until the dreams of flights and zero gravity took final hold, inspiring the present cosmic series.
The artist clearly associates herself with her heroines. Graceful, feminine, and seemingly vulnerable, they all possess an original personality and great inner strength. Nevertheless, a closer look at each of them allows one to notice how vastly different they are. Some of them are the artist's signature tragic and glamorous beauties who colonise the outer space in their evening gowns and high heels. Others bear semblance to a grown Alisa Seleznyova whose obvious otherness and moral integrity were admired and copied by the generation that grew up reading Kir Bulychyov's books and watching their film adaptations Yet another group of female characters appear to dwell in a dreamlike deep space without spacesuits: relishing the freedom of flight, they discover new worlds finding no resistance on the part of reality. Shared by all characters are fearlessness and a childlike trust in the outer space as well as in their own present and future — a sensation that effectively carries over to the viewer.
The artist augments traditional paintings with modern-day technology: adding an interactive element to her project, Fedorova is determined to reach out to the widest audience possible. The artist believes that, since the new generation explores the world solely through virtual reality, the latter should spark a desire for learning rather than replace actual life.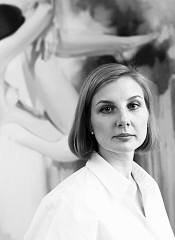 about the artist
Marina Fedorova was born in Leningrad in 1981 and currently lives and works between St. Petersburg and Munich. She studied painting, design and graphic arts at the Nicholas Roerich Art School in St. Petersburg, later graduating from the Saint Petersburg Stieglitz State Academy of Art and Design where she majored in Fashion Design and Illustration.
Over the past two decades, her paintings have been featured in dozens of solo and group exhibitions in Russia and abroad. Fedorova's artworks were acquired for the permanent collections of the State Hermitage Museum, the State Russian Museum, Erarta Museum of Contemporary Art, as well as by a number of private collectors.