Evfrosina
Moment of Momentum
12 April 2023 — 16 July 2023
Erarta Museum of Contemporary Art presented an exhibition by Evfrosina, an artist who has devised her own, instantly recognisable style with a characteristic visual imagery and energy
Art objects inspired by fairy-tale characters, spinning tops, roly-polies, nesting dolls, and other archetypal forms

Nearly 30 kinetic sculptures and bas-reliefs

Vaguely familiar and yet refreshingly new imagery that speaks to our archaic memory
In ancient Greek mythology, Euphrosyne (translated as 'joy') was the daughter of Zeus and one of the Charites who, according to Homer, acted as the retinue of Aphrodite. In her artistic practice, the modern-day Euphrosyne (known professionally as Evfrosina) resorts to various media: kinetic sculpture, painting, art prints, and photography. In each of these realms, she has devised her own, instantly recognisable style with a characteristic visual imagery and energy.
The Moment of Momentum show at Erarta Museum features kinetic sculptures and bas-reliefs. The artist's primary area of focus is movement. After all, nothing is constant in this world, and all things are in perpetual flux. Evfrosina explores the movement of the human body, perceiving it as a powerful tool for gaining control over mind and energy, and creates a special immersive space replete with images that speak to our archaic memory. Her signature characters – Ifallils, I-Ya, Wall Runners, Circles, Tower, and Quarks – blend various cultural traditions with quantum physics discoveries in a playful interactive format. These visuals look refreshingly new and at the same time surprisingly familiar. These art objects were inspired by the archetypal forms that at all times had a sacral meaning and aided in human growth and development: a spinning top, a round bread, prayer wheels, roly-polies, nesting dolls, mandalas, etc. . . . Evfrosina says, 'The most important thing that our prehistoric memory imparted to us through the symbols we have known since childhood is that our core support and source of joy is within us, deep in our souls. The world around us might resemble quicksand, but our ancestral power and spirit form the backbone that facilitates our progress and evolvement.'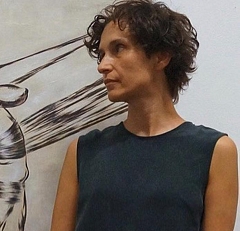 about the artist
Evfrosina lives and works between Barcelona and Moscow. Her solo exhibitions were staged both in Russia (at the Lumiere, Ruarts, and BOCCARA ART galleries, Zaryadye Park Media Centre, and Maria Ermolova Memorial Home in Moscow) and abroad (at Galería Victor Saavedra in Barcelona and Galerie Adler in Paris). Evfrosina frequently takes part in major contemporary art fairs, including Art Miami, Art Basel and Art New York in the US, Asia Contemporary Art Show in Hong Kong, Art Shanghai in China, and Cosmoscow in Russia. The artist has twice been awarded the Silver Wreath prize of the Fashion and Style in Photography International Festival held in Moscow. Her artworks are found in the museum and private collections worldwide: in Moscow, NYC, London, Paris, Barcelona, Dubai, São Paulo, Hong Kong, Shanghai, and other cities.
Supported by: