Eduard Leven. Eastern Wind on a Full Moon Night
24 September 2020 — 22 November 2020
Erarta Museum presented an exhibition by the art photographer Eduard Leven who captures his visions in images as poetic and concise as haikus
Art photography meets digital painting

Self-contained fragments of the world imbued with tender sadness

An artist whose three creative pillars are self-discovery, minimalism, and the Altai Mountains
Eduard Leven, a romantic metaphysicist from Novosibirsk, of Russian and German descent but with a Japanese mindset, has been an art photographer for more than three decades. Such artists are usually instantly recognisable by their preferred subject matter, shooting locations, and trademark style. The three pillars of Eduard Leven's art are self-discovery, minimalism, and the Altai Mountains.
Leven's creations have not only a visual, but also a temporal dimension, as if trying to reach beyond the physical immediacy of the photographic process. They speak not only of what can be seen, but also of the invisible, invoking tender sadness for the transient and evanescent. A feature they share with traditional art is a kind of understatement, at times suggested by a certain incompleteness or even asymmetry. The artist identifies with such Japanese aesthetic principles as wabi-sabi, shibui, and yūgen — terms that have no parallel in any other language of the world.
Eduard Leven is renowned for his minimalistic black and white analogue shots. In addition, he also experiments with digital technologies, gravitating towards conceptual, innovative, metaphysical photography. The exhibition at Erarta is also an experiment, as contemporary art museums tend to easily blend discourses, media, and representation strategies.
This is Eduard Leven's first show to feature his digital works printed on canvas. These are photographs by origin only: subsequent processing and striking visual qualities bring them closer to digital paintings. Each artwork is unique and one of a kind. This painterly afterlife of digital shots unlocks new expressive potential while keeping intact the inner aesthetic codes of their creator who in this case tries on the role of a painter. Perhaps this is the moment of perfect union between art photography and digital painting.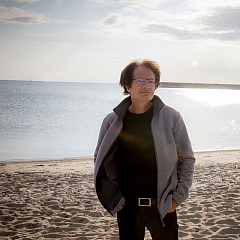 about the artist
Eduard Leven was born in 1958 and currently lives and works in Novosibirsk. Every year, he goes on photographic expeditions in the Altai Mountains. Leven has been exhibiting regularly since 2001. His works were acquired by the Museum of Russian Photography (Kolomna), the Novosibirsk State Museum of Local History, Ploschad Mira Museum Centre (Krasnoyarsk), The Lumiere Brothers Center for Photography (Moscow), ROSPHOTO Museum and Exhibition Centre (St. Petersburg), and for other museum and private collections.