Denis Bulavintsev
The Bear ABC
17 May 2023 — 13 August 2023
Erarta Museum of Contemporary Art presented an exhibition of linocuts by Denis Bulavintsev addressing subjects both currently relevant and constantly present in the Russian culture
An ABC for those who have long since learned to read – the adults

Recognisable imagery embodying the Russian national psyche

A series of linocuts made in keeping with the Russian lubok tradition
The Bear ABC is an exhibition of linocuts (a type of woodcut prints made with the use of a linoleum sheet) by the Voronezh based artist Denis Bulavintsev. The subjects addressed in this series are at once currently relevant and constantly present in the Russian culture. Made in keeping with the Russian lubok popular print tradition, this is an ABC for those who have long since learned to read – the adults.
The main character of Denis Bulavintsev's ABC project is the anthropomorphic bear meant to embody the national psyche, representing the various aspects of the 'enigmatic Russian soul' that often marries the opposites. Appearing in all sorts of guises, from the Holy Ghost to a drunkard, Bulavintsev's character seems to have long been domesticated, copying human vices and virtues alike. This calls to mind Russian fairy tales in which bears are directly associated with humans and boast humanlike personality traits.
Referring to his linocuts as neo-lubok, Denis Bulavintsev says, 'The idea of this show comes from the various clichés about Russia – or, more accurately, clichés about clichés: what we think they think about us . . . Things like Russia being the land of eternal snows, with drunken bears roaming the streets wearing fur hats and playing balalaikas, and everyone drinking vodka and driving around in tanks. However, this was present only at the inception of the series, and it is just one of its facets. With time, this imaginary world acquired a life of its own. This is testified by the range of visual references, which include Kustodiev's paintings, the three bogatyrs, Soviet posters, postcards, and monumental art. The resulting universe was actually never conceived as an accurate representation of reality. It is more of an abstract fantasy, a quaint combination of the pre-revolutionary, Soviet, and contemporary Russia.' Bulavintsev continues his work on the series: as life itself keeps proposing new ideas, this process is bound to be endless.
Denis Bulavintsev's exhibition was programmed through the feedback form on the museum's website. Erarta offers the artists working in various genres and media an opportunity to reach out to their viewers, introducing its visitors to highly original artworks.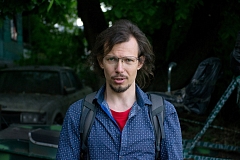 about the artist
Denis Bulavintsev was born in Voronezh in 1984. In 2010, he graduated from the Voronezh Art College, where he studied under Vladimir Presnyakov, holder of the honorary title Distinguished Artist of the Russian Federation. In 2011, Bulavintsev did an internship at the Perm Museum of Contemporary Art (PERMM). Denis Bulavintsev was among the winners of the Talented Youth of the Voronezh Oblast in 2011–2013 project and the 2013 ART Kvadrat Trans-Regional Youth Culture Festival. In 2014, he received a grant from the Voronezh Oblast Government at the regional arts and culture competition. The artist's book Between Sky and Asphalt. A Visual and Poetic Exploration of Voronezh was presented at the Petrovsky Book Club in 2016.