Alexander Trifonov
Russian North
23 November 2022 — 19 February 2023
Erarta Museum presented an exhibition by Alexander Trifonov whose paintings reflect the artist's concern for his homeland's nature, culture, and future
Phantasmagoric dreamscapes strikingly and imaginatively blending the real and the fictional

Reflections on the close connection between man and nature

Semi-abstract artworks inspired by the perfect simplicity of geometric shapes
The artist's studio, like a philosopher's study, was always peaceful and quiet. In addition to being a gifted artist, Alexander Trifonov was a profound thinker. With his creative practice, he aimed to build a parallel reality complete with its own aesthetics and ethics. The world within each of his paintings was carefully constructed. 'It has always been of great importance to me to exist in a world of my own invention and making where I could find harmony often missing in everyday reality. This world can be realistic, abstract, or altogether unlike anything else, but I must feel it, I am excited to exist in it,' the artist used to say.
In the 1970s and 80s, with the Soviet regime declining and Socialist Realism having exhausted itself, artists were searching for new forms, enhancing their practice with elements of Pop Art, Hyperrealism, Surrealism, and other movements thought to be innovative. Around that time Alexander Trifonov created a series of drawings in which the outlines of lichens atop boulders resemble lunar craters, dinosaurs roam the woods, and a woman's face blends into northern flowers. A skilled draughtsman, the artist added plenty of convincing details, prompting the viewers to feel an affinity with the parallel universe of his design.
During the years of Perestroika, Alexander Trifonov was among the members of the Art-Contact group. In 1994, the group staged the 10+ exhibition in Petrozavodsk, showcasing the works by artists from 30 different countries. That period saw the creation of vibrant semi-abstract works as a kind of tribute to the artist's childhood passion for the perfect simplicity of geometric shapes. In the early 2000s, Trifonov began to enthusiastically explore the limitless possibilities offered by computer graphics, readily returning to phantasmagoric dreamscapes, strikingly and imaginatively blending the real and the subconscious in his signature manner.
A closer look at the artist's creative evolution shows that the compositions of his works tend to gravitate towards archetypal structures – a tower, a pyramid, or a triangle – always horizontally arranged, but struggling upward. Trifonov's recurring theme is the symbiotic connection between man and nature.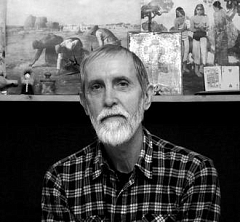 about the artist
Alexander Trifonov was born in 1946 in Lyubertsy, Moscow Oblast. In 1972, he graduated from the Painting Department of the Mikhail Kalinin Moscow Arts and Industrial Design College. A member of the IAA/AIAP (International Association of Art, UNESCO) since 1997, Alexander Trifonov received the honorary title of Merited Artist of the Republic of Karelia in 1998 and, in 1999, the Sampo Prize awarded by the Chairman of the Government of the Republic of Karelia for outstanding achievements in literature and arts. The artist took part in solo and group exhibitions, including international shows.