Evgeniy Zaremba. Somma
07 July 2022 — 09 October 2022
Erarta Museum presented an exhibition by Evgeniy Zaremba whose paintings reveal hidden natural processes normally out of human sight
Smoothly flowing forms on textured canvases

An attempt to inquire into the matter

Visions of the planet's prehistory
The title of the exhibition is a reference to volcanology: a somma is a caldera of an ancient volcano (destroyed through explosive eruption) that circles a new central cone. The term comes from Mount Somma, the stratovolcano surrounding the summit of Vesuvius.
Evgeniy Zaremba's principal characteristic is curiosity leading to continuous growth. The artist aims deep and wide and, by his own admission, seeks to visualize hidden natural processes out of human sight, veering further and further away from the discernible vision of reality. Zaremba claims that his art is not abstract: rather than making things up, he, on the contrary, inquires into the matter, studying its various facets: one might say that his paintings are more realistic than any traditional landscape. The artist resembles a scientist examining the world at the quantum level.
Indeed, it all began with examination and experiment: even back in art school, Evgeniy was not enthusiastic about copying reality. One can follow the continuous evolution of Zaremba's artistic journey. At first he experimented with signs and symbols, practising sculpture and creating art objects in addition to paintings. Later he turned to semi-abstract landscapes that were on display at his first solo show at Erarta in 2012.
Nowadays Evgeniy Zaremba continues his experiments, creating textured canvases with the aid of film. The artist confides that his biggest fear is to rest on his oars, stop growing creatively at a certain point, and start replicating his past successes. The airless, smoothly flowing forms of his current period evoke the grand geological processes of the Archean era when the floor literally was lava and gigantic volcanoes erupted for millions of years in a row. It was in their hot waters that the 'red ribbon' of life once germinated.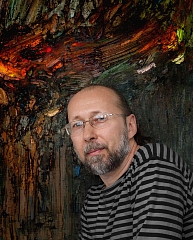 about the artist
Evgeniy Zaremba was born in Omsk in 1968 and graduated from the School of Graphic Arts of the Omsk State Pedagogical University in 1992. In 2014, he was awarded the Shuvalov medal of the Russian Academy of Arts. The artist currently lives and works in St. Petersburg. His paintings are housed in the collections of the Ploschad Mira Museum Centre in Krasnoyarsk, Novosibirsk State Art Museum, Mikhail Vrubel Omsk Oblast Museum of Visual Arts, Tomsk Oblast Art Museum, Kuzbass Museum of Visual Arts in Kemerovo, Khanty-Mansiysk State Art Museum, as well as the Museum of Nonconformist Art and Erarta Museum of Contemporary Art in St. Petersburg.