Victor Norkin
Paradise Somewhere
01 March 2023 — 28 May 2023
Erarta Museum presented an exhibition of artworks by Victor Norkin – a flourishing fairy-tale world which drives away the mundane logic
More than 20 large-scale canvases brimming with poetic metaphors

A journey into the woods of imagination projected through vivid and whimsical imagery

A mix of the personal and the epic, the everyday and the fantastic, the worldly and the celestial
A nostalgic yearning for an earthly paradise, just as the affinity for living in an imaginary world, is often inherent in the inhabitants of the Central Russian Upland. Add to this impressive erudition, unconventional imagination, talent, enthusiasm, and a 'longing for the world culture,' and this mix can produce a remarkable artist. On the other hand, remarkable artists are aplenty, while Victor Norkin is a special, one of a kind painter who managed to create a romantic imaginary world of his own. His huge ornamental canvases featuring surrealistic imagery – albeit of a subtler, more contemplative kind free from any Freudian undercurrents and gravitating towards the bright side of the world – are closer to poetic metaphors. Norkin's works resemble fairy tales and parables staged by a skilled director in the theatre of imagination. They present a peculiar mix of the personal and the epic, the everyday and the fantastic, the worldly and the celestial.
Mundane logic recedes in Norkin's art, giving way to a flourishing fairy-tale world, in which flowers grow taller than men, chimerical creatures with human faces roam the skies, and sounds of the 'magic flute' transform into visions of toy boats, birds, and fish. As if in a somnambulistic dream, spotted cows wander broodingly across the square of Pisa turned into a meadow under the green sky dotted with bright balloons, while the horned crescent moon is trapped in the archways of the erstwhile famous tower. The artist is the shepherd of his dreams, and his enchanted alter ego keeps emerging and disappearing amid the general cycle of things. A caption in one of the paintings reads, 'I swam, I drowned, I fell with the rain.' It seems as if the painter were dissolved in this theatre of poetic dreams. The ebb and flow of visual images suggests a literary origin. Indeed, some of Victor Norkin's works were directly inspired by the writings of his friend from the old days, Ruslan Nadreyev (aka Marsovich). The artist illustrated several of Nadreyev's books: To Fly and to Swim, Calmer, and Winged Lionet (the eponymous painting is featured in the exhibition). Norkin, too, sometimes writes short texts while working on his pictures, incorporating them into the pictorial plane.
Paradise Somewhere is Victor Norkin's first solo museum show in St. Petersburg. It is a real journey into the woods of imagination, telling the stories of our inner selves through vivid and whimsical imagery.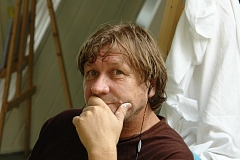 about the artist
A well known and widely exhibited artist, Victor Norkin lives and works in Penza. His solo exhibitions (around 30 in total) were staged at art galleries in Berlin, Moscow, St. Petersburg, Samara, Togliatti, Novokuznetsk, Irkutsk, Vladivostok, and other cities. On numerous occasions, Norkin took part in joint exhibitions by the Gorynychi artistic collective (alongside Denis Saunin and Anna Schyogoleva). Towards the end of 2022, Victor Norkin travelled to India on an art residency programme.