Anna Osipova. Middle World
30 March 2022 – 03 July 2022
Erarta Museum presented an exhibition by Anna Osipova – a thrilling world of fantasy paintings in which characters of ancient Turkic myths storm into present-day reality
Archaic Eurasian legacy meets postmodern consciousness

A search for a new ethnic and cultural identity results in the creation of the artist's own mythology

Large-scale artworks documenting travels between the Upper, the Middle, and the Lower Worlds of traditional cosmology
Anna Osipova is a contemporary Yakutian artist whose trademark style borders on Magical Realism. Although formal academic training has an obvious bearing on her figurative paintings, they are a world away from both conventional Realism and mainstream folklore illustrations. Osipova's art teems with archaic Eurasian imagery and visions inspired by Turkic mythology and Tengrism that storm into present-day reality and in turn acquire modern aspects. One gets the impression that the artist lives in all epochs at once, travelling freely between the Upper, the Middle, and the Lower Worlds, but favouring the Middle one we live in, wherein all powers clash and all times intertwine, with the past validating the present and safeguarding the future.
Anna's search for a new ethnic and cultural identity leads her to create a thrilling world of fantasy paintings full of contrasts, visual oxymorons, love, passion, and vital energy. This exciting product of postmodernist consciousness blends bizarre images of ancient Turkic gods and heroes, Buddhist visuals, Greek Pegasi, oriental symbols, petroglyphs, and Paleo-Asiatic mirages. In a strangely personal way, this mosaic of vagabond cultural imagery adds up to form a solid artistic mythology.
The exhibition features more than twenty paintings, mostly large-scale canvases from the recent years created in Siberia and later brought to St. Petersburg. The most important pieces include the nearly five-metre-long Umay triptych celebrating the ancient Turkic and Mongolian goddess of femininity, as well as the artwork titled Depths symbolising historical time layers.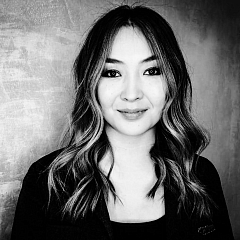 about the artist
Anna Osipova was born in Yakutsk in 1976. After studying at the Yakutsk Art College and the Far Eastern State Academy of Arts in Vladivostok, from 2009 to 2013 she completed a course at the creative workshops of the Regional Branch of the Russian Academy of Arts for the Ural Region, Siberia and Far East in Krasnoyarsk under the supervision of member of the Academy of Arts Anatoliy Levitin. In 2007, Anna joined the Artists' Union. Anna Osipova was awarded the diploma of the Russian Academy of Arts and received awards and prizes at a number of young artists' shows and other local and international exhibitions. Her works are in the collections of the National Art Museum of the Sakha (Yakutia) Republic, Vasiliy Surikov Krasnoyarsk Art Museum, as well as in private collections in Germany, France, United States, China, Canada, Israel, Estonia, and Russia.