Alexander Grekov
Terminus
08 June 2022 – 28 August 2022

Erarta Museum presented an exhibition by the Perm-based artist Alexander Grekov whose art contrasts flourishing Soviet past with dysfunctional present
An attempt to grasp the meaning of history and stop the disintegration of all things reasonable and good, but evanescent
Real-life scenes chanced upon in mining towns, on the outskirts of Perm, and in modern-day Moldova
Soviet past rendered according to the Socialist Realism canon
Alexander Grekov is a man of grand purpose using art to promote his belief in adhering to moral laws and ideals of social equity and constructive effort. The artist is a bit like a film protagonist, a justice fighter of principle. Alexander admits that he is essentially not an artsy type, favouring integrity of conduct, humaneness, spiritual strength, and family values over parties, creative crises, and other attributes of a bohemian lifestyle. More of a philosopher at heart, he aims to create paintings that capture the essence, the very gist of things. The artist believes that history repeats itself through centuries, but mankind fails to analyse its collective experience and keeps on making the same mistakes. Grekov's art is an attempt to grasp the meaning of history and find answers to the questions it poses.
Alexander Grekov's first solo exhibition at Erarta Museum in 2017 presented Soviet past through black-and-white photograph-like visions of political repressions and punitive psychiatry, while modernity was illustrated by dilapidating factories and graveyards.
Presently the artist's approach has seen a complete turnaround. The Terminus project shows Soviet times according to the Socialist Realism canon celebrating genuine, honest, and industrious people. Like social media in our days, this art style glossed over reality, reflecting only certain aspects of it. Abandoned Soviet heritage still features heavily in the artist's works. The images of industrial ruins express disappointment and anguish: after all, much effort was put into the construction of these giants that used to work for people's benefit. In the artist's most recent works, flourishing Soviet past opposes the dysfunctional present. Some of these scenes have been snatched from real life, chanced upon in mining towns, on the outskirts of Perm, and, even more often, in modern-day Moldova where the artist's parents reside. 'Naturally occurring things are much more complicated than fantasy,' asserts Grekov.
Alexander Grekov sees his top priority in diverting his creative energies towards making this world at least slightly more earnest, encouraging people to think about the consequences of their actions. His art aims to stop the disintegration of not just industrial buildings, but – paraphrasing the poem by Nikolay Nekrasov – of all things reasonable, good, but, alas, evanescent.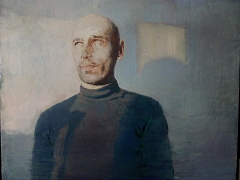 about the artist
Alexander Grekov was born in 1982 in Cahul, Moldavian SSR. In 2007, he graduated from the Ural Branch of the Russian Academy of Painting, Sculpture and Architecture. The artist currently lives and works in Perm. His artworks were exhibited in group and solo shows in Moscow, St. Petersburg, Yekaterinburg, Perm, Sochi, and other cities and acquired for the collections of the Erarta Museum of Contemporary Art and the Novaya Kollektsiya Foundation (Perm).