Philippe Shangti. Flavour of Sensuality
26 March 2021 — 25 July 2021
Erarta Museum presented an exhibition by the French artist Philippe Shangti – a collection of exquisite sensations bound to unlock our unconscious
Playbill-like snapshots resembling scenes from a large-scale theatre production
Sensuality as man's natural element
An artist selected to represent the Principality of Andorra at the 58th Venice Biennale
Sensuality is Shangti's element, the place where he feels most at home. To him, life is primarily the source of various sensations. One hesitates to categorise his creations as staged photography; rather, the artist takes on the guise of a director putting on a large-scale theatre production and capturing certain scenes from it to make posters and playbills. No matter what his actual subject is, the artist, like a circus magician putting a rabbit in his top hat only to pull it out by the ears to the great delight of the audience, imbues his works with all kinds of sensations unrelated to the subject matter as such, only to prompt our own sensuality to expose them unassisted and reassemble them into a magnificent and at times unexpected palette. His Luxury Pollution Car, for example, literally illustrates the popular interpretation of some men's craving for a supercar as a covert desire to seduce every woman in the world. Quite simply and elegantly, Shangti visualises this all-rolled-into-one trophy. Luxury Corrida invites the viewer to forget about man's assumed superiority over beast: bulls must be dreaming such triumphant dreams on the eve of the bullfight.
Of particular note is the landmark piece entitled Crazy Waitress – the artist's self-portrait featuring everything a mere mortal could desire: money, women, and champagne flowing like water; the sensual air of luxury and a disarmingly straightforward invitation to suck the marrow out of life. Nevertheless, this is not a story of a restless search for unrestrained carnal delights: the artist himself, albeit positioned in the centre of the picture, is not central to the proceedings and looks more like he has been suddenly thrust in their midst, and for a short time at that. Instead of languidly slouching in a leather armchair, he is squatting on his haunches, tight as a coiled spring, ready at any time to straighten and jump out of the whirlpool of women and luxury items, the large clock in the background further reinforcing this impression. Attentive viewers will realise that this is not an orgy but simply another journey in Shangti's company, this time into the world of those who, by popular standards, have made it to the top. 'Get into their skin,' the artist seems to be saying. 'Try walking in the shoes of the chosen few at least for a while.'
Indeed, the luxury of liberation is truly a rare privilege. It takes courage to allow oneself to look at someone else's nudity and, by stripping away certain conventions, in a sense become naked, too. That said, for each and every one of us it is a path worth exploring, as it is one of the few universally accessible ways to liberate our true self: we all should occasionally unlock our unconscious, allowing ourselves uncensored emotions. To that end, Philippe Shangti's works can come in handy as a self-training aid. A true maven and connoisseur of sensual delights, Philippe is offering us a rich selection of sophisticated sensations, inviting us to join him in partaking of this sensory feast.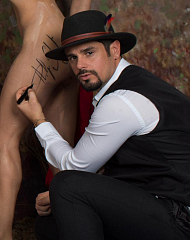 about the artist
Philippe Shangti is a multidisciplinary artist who expresses himself in photography, sculpture, video, painting and even live performance. At the beginning of his artistic journey Philippe Shangti settled in the city of Saint-Tropez. It is this 'city-muse' which inspired the artist's first revolts.
In 2019, Philippe Shangti was selected to represent the Principality of Andorra at the 58th Venice Biennale. His monumental project, The Future Is Now, aims to demonstrate that the behavior of mankind today irreversibly determines the world of tomorrow. The international press and art players have ranked the Andorran pavilion — and Philippe Shangti's work — among the 10 must-see pavilions of that Biennale.