Yuri Catania
Moonlit Garden
26 January 2023 — 28 May 2023
Erarta Museum presented an exhibition by Yuri Catania, taking the viewer on a walk through a secret garden
50 pictures taken in Palm Springs, California, and the photographer's own garden at the foot of the Alps
An intimate photography project capturing the aesthetic perfection of hundreds of colourful flowers lovingly cultivated by the artist's wife
A metaphysical garden, remote from reality and particularly enchanting by night
What makes the night so attractive? Why are there so many poems celebrating it?
The night offers a short respite, a chance to call it a day, to zero out, to remind oneself that tomorrow is another day when all dreams will finally come true. The night softly erases everything that was before, allowing one to forget today's failures and unfulfilled promises. Oh magic night!
The night is a tiny death for today's imperfection, a short break before its victorious rebirth on the next day. Tomorrow I will be a different person, tomorrow I will accomplish what is long overdue. The night obscures obstacles and renews our faith in ourselves. Oh blessed night!
The night makes us more daring by placing out of sight all those who, willingly or not, constantly witness our everyday life; nightfall eliminates the need for self-control, and the newly mustered strength that we used to waste on suppressing our own desires can be invested in restoring the balance that had been upset during the day. By morning we will once again be one with the world's harmony. Oh healing night!
The night is like a fairy tale, and sweet are the dreams under its veil! Like an empty canvas in the hands of an artist, it will embrace any visions that we dare to draw in our mind. Oh profound night!
Make a wish and take a walk through the night garden created by the Italian-born artist Yuri Catania. His garden is far from being realistic: the flowers are fresh and colourful, whereas in real life most of them would close up at nightfall to protect themselves from the cold and humidity and preserve their aroma until the next morning when the insects return to pollinate them. Of course there are some real flowers that bloom by night, but those are few and far between and, unlike Yuri Catania's flowers, rather discreet, and so one can be sure that, rather than picturing flower still lifes, the artist is imaging a metaphysical garden wherein the backdrop of night is no less important than the blossoms.
The photographer dedicated this series to his wife Silvia. The tradition of presenting women with bunches of fresh flowers is a relatively recent one. In the ancient times, flowers were offered to gods only, although a legend maintains that the first bouquet was given by Adam to Eve when, following the Expulsion, they roamed the dismal earth and Eve yearned for the Garden of Paradise.
At night, bunches of flowers not only look romantic: they symbolise rebirth and promise, they represent hopes and dreams. This brings to mind the well-known verses by Rabindranath Tagore:
Night, I come here again
To stare into your eyes
Longing to be silent for you
And to rhapsodise you.
As the dew slowly falls
With the flowers' measured breath
I will raise my eyes
And in silence you will appear . . .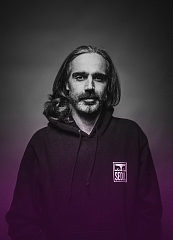 about the artist
Yuri Catania was born in Milan in 1975. He is a Swiss-Italian visual artist. He began his career as a fashion photographer and has collaborated with high fashion brands, including Chanel, Giorgio Armani, Philipp Plein, Ermanno Scervino, and La Perla, and international magazines like Vogue Italia, Numerò Paris, i-D, and Love. At the same time, he was working on his own art projects, experimenting with different media. The turning point came in 2013 when Catania's works were noticed by a French curator who invited him to exhibit in Paris. Since then, Yuri has been creating art photography and mixed media artworks and doing exhibitions all over the world. Due to the countless trips and encounters with other cultures and landscapes, his outlook evolved quickly, to the point where the medium of photography became inadequate for his creativity that has branched out into new languages like artificial intelligence, 3D, painting, and collage.