Alan Khatagty. Noir
10 August 2022 — 09 October 2022
Erarta Museum presented an exhibition of paintings by Alan Khatagty striking a fine balance between film noir and sci-fi thriller with a slight erotic tinge
Puzzle-like pictures revealing the 'nocturnal' aspect of life

A twilit space inhabited by humans, beasts, and birds

Artworks resembling stills from a film with an elusive storyline
A descendant of the ancient Alan people who had left an imprint in both history and culture, Alan Khatagty was born in North Ossetia but has been living in St. Petersburg for more than two decades. During these years he found his original creative voice and became a prominent figure in the city's contemporary art scene. Alan is a multidisciplinary and multifaceted artist, while the Noir project inspired by the eponymous film genre holds a special and quite unusual place in his oeuvre.
The realistic paintings showcased at Erarta are somewhat evocative of the Surrealist automatic writing. Each of them is akin to a sombre random still from an unknown film featuring an elusive storyline and copious dialogue. Its characters are extremely isolated, steeped in the twilit space of the frame. At times finding themselves in the unexpected company of winged or four-legged creatures, they channel disturbing ambiguity and cognitive dissonance.
According to Alan Khatagty's description of the project's style, 'Its genre boundaries are blurred, with each picture vacillating from noir and giallo to sci-fi thriller with a slight erotic tinge. The action takes place on a steamy summer night in an unspecified location. Protagonists emerge only to raise a question or do something incongruous. The abundance of characters and subplots is puzzling. At times it seems that this puzzle was either a phantom or just too complex to solve, making it so much easier to pretend that it never existed. Paranoia, psychological tension, and episodes that make the mysterious, non-linear story even more confusing prevail.'
These visualised flashes of the subconscious seem to impart the passion and anxiety engendered by the broken, cracked, uncontrollable, unpredictable, atomised, and deadly matter of life, its 'nocturnal' aspect. The artist tries to get the viewer to ponder, decode, and deduct the meaning of what is going on. This realisation seems to vanish in the surrounding darkness without being attained – the viewer remains equally unaware of anything that has been happening up to this point or will happen next. After all, this is just a moment in an endless 'movie.'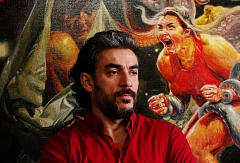 about the artist
Alan Khatagty was born in 1978 in Ordzhonikidze (now Vladikavkaz, Republic of North Ossetia–Alania). After completing the course at the Vladikavkaz Art College he graduated from the St. Petersburg Stieglitz State Academy of Art and Design in 2004. From 2007 through 2017, he was a member of the Nepokorennie Art Studio. Khatagty's preferred media are abstract art objects, realist painting, and graphic arts. The artist's works are housed in private collections in Russia, Latvia, US and UK. Alan Khatagty currently lives and works in St. Petersburg.