Pyotr Dik. Pastels
31 January 2020 — 27 April 2020
Erarta Museum presented an exhibition by the renowned artist Pyotr Dik whose art amalgamates the beauty of nature with the tragic experiences of Soviet childhood
Pastel on sandpaper

Time and space condensed on a flat surface

Artist whose works are showcased in the Tretyakov Gallery and the Russian Museum
Pyotr Dik's trademark style was influenced by two, it would seem, mutually exclusive factors: the beauty of nature and the tragic Soviet childhood experiences. The artist was born into a family of ethnic Germans settled in the Altai region, of which he retains a fond memory of being surrounded by an 'endless sea of feather grass and a huge sky.' 'Any element appearing in these surroundings seemed significant, imparting a sensation of a cosmic presence,' recalled Pyotr.
After the outbreak of WWII, the mother of the future artist was sent to a labour camp, while his father, drafted into the army, returned from the front in 1942 terminally ill with tuberculosis. He died shortly after, which came as the first major shock in Pyotr Dik's life. 'The first post-war years were almost as hard as during the war: the same hunger and struggle to survive, only under military police supervision,' remembered the artist. 'I couldn't help objecting what was going on.'
This inner crisis contributed to Dik's tragic worldview: the childhood protest lent his artworks a heartfelt depth of meaning. Later this dissent became almost instinctive, taking the form of an acute earning for justice which, throughout the artist's life, gave him strength and courage to defend his aesthetic choices. For him, this was one of the reasons to join the Graphic Arts Division within the Soviet Artists' Union: it gave more freedom of expression than was allowed to painters and sculptors.
It was then, in the late 1980, that Pyotr Dik discovered his signature medium, pastel on sandpaper. This method enabled him to almost literally draw the viewers inside his artworks: the dark background and grainy texture add special depth to his pastels, emphasising the intensity of colours and shades. Within each drawing, the density of pastel seems to alter the common laws of physics: space and time interact in a different way, gravity increases, darkness thickens, while light looks even brighter. In this way the artist achieved particular dramatic tension, making his artworks seem timeless on both physical and metaphysical levels.
The certain otherness, pronounced humanism and silent mystery of Pyotr Dik's artworks turns his concise aesthetics into ethics.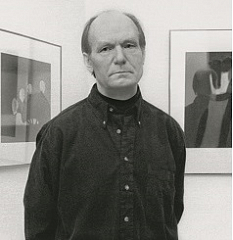 about the artist
Pyotr Dik was born in 1939 in the village of Glyaden (Blagoveschensky District, Altai Krai). In 1977, he joined the Union of Artists of the USSR. The artist's distinctions include the honorary titles of Distinguished Artist of Russia (1991) and People's Artist of the Russian Federation (1999), as well as the Russian-German Cultural Award (2001).
His artworks were acquired by the State Tretyakov Gallery (Moscow), State Russian Museum (St. Petersburg), Pushkin State Museum of Fine Arts (Moscow), Moscow Museum of Modern Art, as well as for other state and private collections in Russia and abroad.
Pyotr Dik died in 2002 in Germany and was buried in Vladimir.