Philip Treacy. The Maestro
20 November 2020 — 21 March 2021
The large-scale show by the world's greatest milliner became the museum's gift to St. Petersburg for Erarta's 10th anniversary
Hats designed for showbiz stars and major fashion houses

Celebrated masterpieces and new creations previously unseen in Russia

Boundless imagination of the world's only haute couture hatmaker praised by royalty and celebrities alike
Exclusive pieces created for Alexander McQueen, Chanel, Givenchy, and Umbro, extravagant hats featured in Lady Gaga's music videos and Harry Potter films, the halo-like wedding hat made for Prince Charles' fiancée Camilla Parker Bowles are just a few of Philip Treacy's extraordinary fashion achievements that earned him the fame of a cult haute couture designer. Among the countless admirers of his talent are the British Royal Family, Sarah Jessica Parker, Grace Jones, Katy Perry, Lady Gaga, Madonna, and many other celebrities.
His formula for success is simple: boundless imagination and bold ideas. A swan, a horse head, a lobster, a telephone, a hand, an ashtray — Philip Treacy can be inspired by any of these, and many other things. The designer constantly experiments with palettes and shapes across an ever-expanding range of materials: feathers, artificial and natural plants, plastic, metal, fur, textiles, and even electrical devices. His mind and imagination that's been deliberately trained and engaged in the craft for 30 years can convert that initial spark into an explosive chain reaction, the first note into a full beautiful symphony, like a true maestro.
In 2015, Erarta Museum already staged a Treacy retrospective spanning the master's quarter-century artistic career. The show was an instant hit, becoming the most-visited exhibition of its time and drawing an incredible number of positive reviews. This admiration was requited: Philip Treacy loved both St. Petersburg and the museum, so the decision to stage an exhibition of his quirky hats as a gift to the city for Erarta's 10th anniversary came quite naturally.
The exhibition showcases 46 pieces, including Treacy's recent creations previously unseen in Russia along with popular favourites from the Hats in the 21st Century which continue to thrill fashion enthusiasts the world over. Among them is a three-dimensional version of Andy Warhol's Hats sketch, commissions for Alexander McQueen's collections, Grace Jones' disco hat, headpieces that appeared in Lady Gaga's Stupid Love and Marry the Night music videos, as well as many other creations, each of them worthy of being called a true work of art.
Lady Gaga described Philip Treacy as 'the greatest milliner of all time' – his name is synonymous with hats to the same extent as Pablo Picasso with cubism, Enzo Ferrari with racing machines or Roger Federer with tennis – in each of those cases you know you're privileged to be in contact with the work of someone operating at the very summit of their profession. Philip Treacy himself says:
On each hat I spend as much time as it requires to become extraordinary.
People coming to my studio often ask: 'But where are the sewing machines?', and I always answer: 'Here are my hands, that's everything I need.'
In the morning I feel dressed only after putting on my finger thimble.
I love when hats make your heart beat faster and make you feel like a million dollars.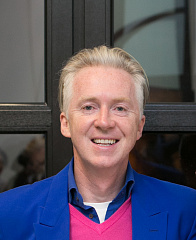 about the artist
A Knight Commander of the Order of the British Empire, Philip Treacy is a five-time winner of the title of Accessory Designer of the Year at the British Fashion Awards and a dozen of other prestigious prizes. Today his works are not only exquisite items of clothing, but also valuable museum objects. Treacy's hat exhibitions are hosted by the world's most famous galleries. The first exhibition of his masterpieces was held by the renowned Metropolitan Museum in New York. At the same time, he continues his collaboration with such leading fashion houses as Armani, Ralph Lauren and Givenchy, and never forgets his favourite beauties: Sarah Jessica Parker, Lady Gaga, and the irresistible Grace Jones. He even acted as the stage designer for the black pop diva's world tour. In 2018, Philip Treacy was selected the design director of the grandiose VIVID Grand Show at Friedrichstadt-Palast in Berlin.
Supported by: