Alexander Kosenkov. The Sun, the Sea, and the Icebreaker
10 June 2021 — 05 September 2021
Erarta Museum presented Alexander Kosenkov's paintings saturated with the Mediterranean sun and energy of life
Artworks from the recent years, some of them shown in St. Petersburg for the first time

A paradoxical blend of humour and expressiveness

Lightness combined with mathematically precise colour choices
Alexander Kosenkov's (1959–2021) painterly temperament sets him apart from other artists in the St. Petersburg scene. His works, paradoxically blending humour and expressiveness, visual ornateness, vital energy, and extreme vibrancy of colour, seem to have been painted under the Mediterranean sun. Some of them have indeed been inspired by trips to Italy, Greece, Spain, France, and Montenegro, while others convey the chill of the greyish St. Petersburg winter. What really matters here, however, is not the outer circumstances, but the peculiar 'inner light.' For Alexander Kosenkov, art was akin to Hemingway's 'moveable feast,' opening the world up and ceaselessly producing endorphins. Everyday scenes, fetishes of the global culture and tour industry, and basically any subjects interpreted by the artist were for him the source of 'vivifying nonsense' – the play of meanings and compositional rhythms, the drama of colour that distinguish his works from poster-like interior paintings.
Alexander Kosenkov's original, instantly recognisable style formed by the late 1990s. Despite their apparent lightness achieved through daily work in the studio, his artworks boast a carefully planned composition held together by both visible and invisible spatial lines of force. The active hues never raise their voices to a shout, and the overall colour balance is mathematically precise.
Building the museum's collection before Erarta was opened, its curatorial team had visited Novosibirsk and discovered the art of Alexander Kosenkov. Thus began the many years of collaboration: the artist's works were acquired for Erarta Museum's permanent collection, and a number of his solo shows were staged locally and abroad. Having moved from the Novosibirsk 'Academic Town' district to St. Petersburg, the artist frequently took part in Erarta's exhibitions, including travelling shows that took his art to many cities, from Minsk to Vladivostok, from Veliky Novgorod to Almaty.
Alexander Kosenkov, whose artistic journey was sadly cut short by the coronavirus disease, was a bright, radiant, and life-loving person. The Sun, the Sea, and the Icebreaker exhibition features mostly his works from the recent years, some of them shown in St. Petersburg for the first time.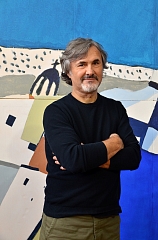 about the artist
Alexander Kosenkov (1959–2021) was born in the Soviet Far East, later lived in the Academic Town district of Novosibirsk and subsequently moved to St. Petersburg. Painter and graphic artist, member of Artists' Union of Russia. Member of the Board of IFA (Creative Union of Artists of St. Petersburg). Winner of ArtPreview 2010 national competition in the Painting category (KINO Gallery, Moscow) and of the bronze medal for Painting awarded at the Artwork of the Year – 2015 exhibition (IFA, St. Petersburg). The artist's works are housed in the collections of the Tsarskoselskaya Kollektsiya State Museum, Museum of Non-Conformist Art (St. Petersburg), Novosibirsk State Art Museum, Ploschad Mira Museum Centre (Krasnoyarsk), as well as other state and private collections in Russia and abroad.