Venera Kazarova. White Dreams
02 December 2021 – 27 February 2022
Erarta Museum presented an exhibition of Venera Kazarova's surrealistic costumes with masks concealing an acute awareness of this world's imperfection
Costumes as art objects free from utilitarian purpose

Delicate beauty and frailty of a white sheet of paper

An artist whose installation was showcased at the Moscow Fashion Week
Photo by Lena Kholkina

Photo by Ira Bordo

Photo by Ira Bordo
Venera Kazarova's art is that of astonishment. Her unusual works seem to conceal an acute awareness of this world's imperfections. 'Watching the news leaves me wondering how one can keep on creating while all this is happening,' says the artist. 'I get the feeling that I have no right to do this. That the world must be changed. I cannot change it, though. No one can. I work with the things that astonish me most: beauty, violence, and absurdity. Looking at something beautiful suddenly reminds me that beauty often coexists with horridness.'
Kazarova describes her style as fashion surrealism. Steeped in sublime understanding of human psychology, the artist's creations draw on complex imagery, dreams, and associations. Her art harks back to carnivalesque culture, wherein costumes transform people into imaginary beings or superheroes, at the same time attempting to protect them, which is evidenced by Kazarova's frequent integration of blankets, pillow, and even mattresses into her works. The wearers of these quirky outfits resemble precious and fragile Christmas ornaments, lovingly wrapped in cotton wool until the next holiday season. The artist makes skilful use of paper, clearly attracted by its delicacy and frailty. 'This is what I work with. It's what I identify with. A white sheet of paper is the ultimate form of impracticality,' explains Kazarova.
Venera Kazarova's costumes displayed at Erarta Museum are neither utilitarian nor even theatrical: rather, these are art objects that the artist combines to create installations and performance art. In the contemporary art scene, at times marked with morbidity or immaturity, the works by this young and much sought-after artist stand out as idealistic and innately ethical.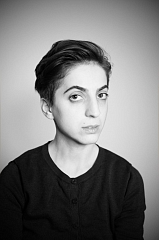 about the artist
Designer, costume designer and performance artist Venera Kazarova graduated from the Moscow State University of Design and Technology in 2008. Working on the cusp of design and technology, she creates paper stage sets and costumes for theatre shows and photo shoots. Venera collaborated with the Seasons and AD magazines. In 2015, her installation piece of paper costume objects was shown at the Moscow Fashion Week. In 2019, Kazarova designed costumes for the Manifesto Cartier. In the Avant-Garde. Beyond Time gala dinner.
Venera Kazarova is a full-time costume designer at the Free Space Theatre (Orel).