Alexander Kompaniets. Earth Signs
13 May 2021 — 08 August 2021
Erarta Museum presented an exhibition by the Krasnodar based artist Alexander Kompaniets whose contemplative paintings evoke the Zen tradition
Southern nature seen with detachment of a filed scientist

An unexpected suspense effect

A universe of earthly patterns
Alexander Kompaniets seems to be going against the current trend: he is equally unconcerned about the present-day ideas of success and unafraid of being misrepresented. The Earth Signs exhibition showcases paintings celebrating the abundant nature of the South. That said, the artist's favourite season is autumn – the time when the lush greenery, scorched by the sun, starts to dry, revealing to the human eye the minute details of the terrain, while the air grows cooler and clearer. This is what lends Kompaniets' paintings a contemplative and meditative aspect, evoking the Oriental Zen tradition.
One might argue that individuality was factored out of these canvases, abandoned in favour of the detachment of a field scientist. However, while depicting these earthly signs, the artist, who has the opportunity to closely observe the thoughts and feelings of his growing son, seems to be re-living his own childhood. Alexander Kompaniets pays attention to what lies underfoot – of no interest to grown-ups, these trifles are a world of their own for a child. The artist appears to be eternally locked in the universe of the wall rug motifs one used to scrutinise before falling asleep.
Having no obvious plot, but teeming with meticulously painted textures and details, Kompaniets' canvases summon a sense of suspense that at times condenses into sudden and inexplicable anxiety and anticipation of the irreversible. Here, a bonfire seems to be on the brink of swallowing the entire forest, while the tall wavering grass is hiding the unfathomable. The artist realises that the only constant thing in the world is its tragic impermanence. This impermanence triggers an acute feeling of loneliness that pervades Alexander Kompaniets' paintings. The artist, nevertheless, makes an attempt to freeze the time, to capture the evanescent – something that very soon will be lost forever.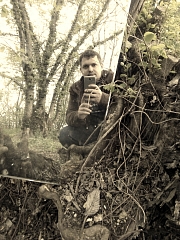 about the artist
Alexander Kompaniets was born in Krasnodar in 1986. He graduated from the Krasnodar Art College in 2006 and from the School of Painting of the Saint-Petersburg Russian Academy of Arts' Repin Institute for Painting, Sculpture and Architecture in 2012. Member of the OKNO artistic collective.