García de Marina. Uchrony
12 August 2021 — 31 October 2021
Erarta Museum presented an exhibition by the Spanish Surrealist photographer García de Marina whose art challenges the viewer's imagination
Alternative vision of reality
'Naughtiness feast' of the animate objects
Visual poetry based on absurdist metaphors
Successor to the Surrealist photographic tradition, Spanish artist García de Marina offers the viewer an alternative vision of reality. His creative method can be tentatively termed as uchrony, implying an approach to the world of physical objects that ignores their original functions. The artist manipulates his props like a child playing with pebbles, combining them in an ingenious way to create something new.
Our overindustrialised daily lives are filled to the brink with all kinds of material objects, teeming with coffeemakers, spoons, brooms, brushes, dishes, and other blessings of civilisation. Looking at García de Marina's photographs, we instantly recognise these utensils, even if we have never held them in our hands. They all seem to be engaged in something of a 'naughtiness feast': jettisoning their ordinary function, they literally couple with each other, giving birth to chimeric imagery. The artist conjures up a world of animate objects that try to appear not what they are, adding up to form mysterious messages.
García de Marina describes his art practice as visual poetry. Indeed, the poetic trope of metaphor is the key artistic device here. Nevertheless, it is not always easy to read the meanings behind these visual metaphors: at times they seem absurd or even accidental. However, such is the poetry of things, celebrated by Comte de Lautréamont who famously found beauty in 'the chance meeting, on a dissecting table, of a sewing machine and an umbrella.' The ability to see meaning in the absurd and accidental is what makes a person an artist. García de Marina invites us to join him in this whimsical game.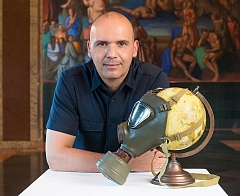 about the artist
García de Marina was born in Gijón, Spain, in 1975. In the year 2010, he went through a life-changing experience: having bought his first camera, he found himself swept by a passion for art photography. In less than a year, he started sharing his first works on social media and taking part in exhibitions. In 2015, de Marina received an offer from the Spanish Embassy to represent the country at the FotoWeek DC competition.
In the recent years, the artist participated in dozens of photographic festivals at home and abroad, including, among others, the Xposure International Photography Festival (UAE), Addis Foto Fest (Ethiopia), Photo Romania Festival (Romania), Budapest Photo Festival (Hungary), and Uppsala Fotofestival (Sweden). The artist's projects were showcased at the Cervantes Institute in Belgrade (Serbia), the Laboral Ciudad de la Cultura cultural centre (Gijón, Spain), and the Cervantes Institute in Budapest (Hungary). In 2021, the Spanish national postal service Sociedad Estatal Correos y Telégrafos, S.A. issued 162,000 stamps with an image based on García de Marina's artwork.