Gianmaria Potenza
Piccola Bellezza
24 August 2022 — 20 November 2022
Erarta Museum presented an exhibition by Gianmaria Potenza, contemporary artist and sculptor upholding the centuries-long traditions of Italian art
Reinvention of the magical symbols of tarot

Intertwined visions of Venice, Moorish sensuality, and Middle Eastern lacework

Timeless artworks manifesting certain features and colours of the past
It is well-known that tarot cards were being used for divination as early as the Renaissance era. However, a modern-day necromancer who uses them is no longer running the risk of being burnt at the stake or anathematised like his predecessors. The proof lies in the fact that today we can admire tarot's magical symbols reinvented by Gianmaria Potenza – the extraordinary Italian artist working across different media. The Piccola Bellezza exhibition showcases artworks employing a technique different from the one that made their creator a renowned sculptor. Nevertheless, here, too, Potenza strives to conjure up visions of the history-rich Venetian land. This is evidenced by an air of timelessness which still retains certain colours and features of the time. The artist's creations teem with Byzantine allusions, Moorish sensuality, and Middle Eastern lacework.
Gianmaria Potenza's formal art training and background informing his creative practice are closely tied to his home city. Venice is his constant source of inspiration: after all, it is the meeting point for great artists, the place playing host to the most important contemporary art show – the Venice Biennale.
We proudly present this modern and yet classical artist who upholds the centuries-old traditions of Italian art. Be warned, though, that these pictures are far from ordinary: who knows, perhaps today of all days, while looking at these majestic artworks, you might get an answer to your innermost question.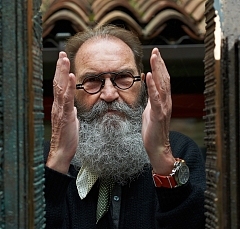 about the artist
Artist, sculptor and designer Gianmaria Potenza was born in Venice in 1936 and currently lives and works in the city's central San Trovaso neighbourhood. It was here that he set up his studio back in the 1950s, while still a student at the Art Institute. Potenza is an active participant of the Venice Biennale – his works were exhibited there in 1954, 1956, 1958, 1960, 1966, 1968, 1986, 1995, and 2009 respectively. The 1986 Biennale, at which the artist presented his Ninfea Armonica floating sculpture, lead to large-scale international shows: from Istanbul to NYC and from Hong Kong to St. Petersburg. The artist received commissions from manufacturing enterprises, banks, hotels, churches, and large shipping companies. Gianmaria Potenza's artworks grace the squares of numerous Italian cities and offices of important public agencies. Potenza continues experimenting, creating his works with the same passion and curiosity and exploring new techniques and materials.