Igor Baranov. Herbarium
31 January 2020 — 27 April 2020
Erarta Museum presented an exhibition by Igor Baranov reflecting on the evanescence of life
Sophisticated printing technique

Reinvention of the allegorical still life tradition

Juxtaposition of nature and culture
Igor Baranov mastered all the ins and outs of printmaking early on, during his studies at the Boris Ioganson Art School, and later at the Russian Academy of Arts' Repin Institute for Painting, Sculpture and Architecture. This solid academic background allows the artist not only to share his knowledge with his students, but also to actively make new discoveries. The first prints from the Herbarium series appeared during a study trip to China where he learned a very complex printing technique vaguely resembling serigraphy: each colour is transferred separately from a textile screen with machine-like accuracy requiring remarkable strength and stamina of the artist. Finding himself far from home, Igor Baranov, just like the travellers of the 18th and 19th centuries, turned to the task of assembling a herbarium. This encounter with a different culture gave him a new slant on the human civilisation in general.
The herbarium imagery offered by the artist is inextricably linked to the painting tradition of Vanitas still lifes alluding to the transient and cyclical nature of all living. Such still lifes function as allegorical ciphers to be read like a book, carefully noting here the rotting bottom of a peach, there the greedy spark flashing in a cat's eye somewhere in the far corner of the picture. Our contemporaries have all but forgotten this visual language graphically demonstrating the dangers of vices and encouraging one to revert to virtues.
Igor Baranov's artworks may seem like an illogical agglomeration of haphazard images. All objects, be it flowers, animals, or artefacts, are seen as static and frozen, just like anatomical charts. The artist conceives them as mummified visions of reality, yet to be decoded by the historians of the distant future. They will also be the ones to interpret the recurring motif of evanescence — a phenomenon observed by the artist and palpably present throughout the series. Representing the clash between the natural and the cultural, flora and fauna come face to face with humans and their deeds in these artworks. This juxtaposition invites melancholic doubts whether progress is indeed an evolutionary advancement from good to even better: here, the human aspect is symbolised by various forms designed to terminate life — from menacing steel to guns and chemicals.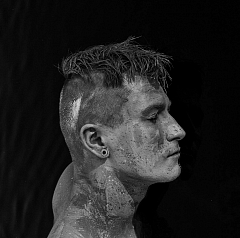 about the artist
Igor Baranov is a painter and a graphic artist. Born in 1983 in Leningrad, he graduated from the Boris Ioganson Art School in 2001 and from the School of Graphic Arts of the Russian Academy of Arts' Repin Institute for Painting, Sculpture and Architecture in 2007. Since 2009, he has been teaching painting, drawing and composition at the Repin Institute's Branch in Kotka, Finland.
Igor took part in more than 50 exhibitions in Russia and abroad, including 18 solo shows. His artworks were acquired for the collections of the State Hermitage Museum (St. Petersburg), Dmitry Rovinsky's House of Prints (Moscow), Harbin Museum of Russian Art (China), and private collections in Finland, Sweden, Denmark, Belgium, Germany, USA, and South Korea.