Russell James. A Decade Backstage at Victoria's Secret Fashion Show
28 February 2020 — 08 November 2020
Erarta Museum proudly presented an exhibition by the acclaimed Australian photographer whose work appeared in Vogue, W, American Photo, GQ and Sports Illustrated. Armed with an all-access pass and a camera, he has had more than 10 years of unfettered backstage access at the biggest and most watched fashion show in the world — the Victoria's Secret Fashion Show
Russell James' uniquely personalized approach highly appreciated by celebrities and prominent supermodels alike allowed him to capture the candid moments, contagious excitement, and driving passion behind the global fashion industry. Exhibition guests will not only follow Russell James deep behind the scenes of the magnificent show, but feel the true backstage atmosphere and become part of it.
The series of 60 photographs takes the viewer into the unseen world where Victoria's Secret Angels come down to earth. These lively images are full of sincere emotion: we see Candice Swanepoel playfully peering from behind the curtain with an irresistible smile; Lady Gaga looking revved-up before going out on the runway; the dazzling Adriana Lima with her hair up in curlers engaged in a relaxed chat; the elegant Elsa Hosk putting on high heels before stepping on the catwalk almost as if lacing up her trainers before a morning jog...
Russell James describes his experience with the Victoria's Secret Fashion Show, which presents a changing location every year, thus: 'I have often likened my extraordinary backstage access to this wondrous show to being the janitor in the closet at the White House — I have been constantly present through an extraordinary evolution. However, the real story is one of relationships, mentorship, and trust that has taken many years to develop, and that I cherish. While I don't have the words to describe what I have witnessed, I hope that these images will give you a sense of the amazing people and family-like relationships that are at the heart of this astonishing show. Never for one second do I take for granted the great privilege and trust that has been shown to me.'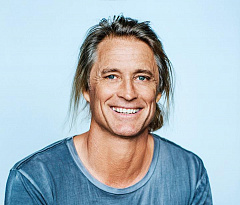 about the artist
Russell James was born in Australia and currently lives and works in New York City. Over the past two decades, his images have become synonymous with provocative, unique perspectives of many of the most prominent people of our time. Russell James' work has appeared in publications such as Vogue, W, American Photo and French Photo, Marie Claire, GQ, Sports Illustrated, and a vast array of international art and photography journals.
Since early in his photography career he has been working closely with the Victoria's Secret brand. His photographs of the female form are unparalleled in popular culture. His subjects include top models such as Behati Prinsloo, Lily Aldridge, Adriana Lima, and Alessandra Ambrosio, to name a few. His 2017 fine-art book Backstage Secrets saw both international and Chinese editions.
In August 2007, James received the acclaimed Hasselblad Masters Award, and in 2009 he joined the prestigious ranks of Irving Penn and Helmut Newton as a resident artist of CAMERA WORK, the world's leading gallery for contemporary photography and vintage master works, based in Berlin, Germany. James' fine-art series have been exhibited in Tokyo, Berlin, Stockholm, Sydney, Aspen, Los Angeles, and New York.