Lyusya Voronova. Garden of Paradise
06 November 2019 — 27 January 2020
An exhibition of works by the Moscow-based artist Lyusya Voronova revisits the aesthetics of naïve art and invites the viewer into the huge world of a little person living in a wondrous paradise-like garden
Lyusya Voronova has a distinct, instantly recognizable style and justly takes pride of place in the contemporary artistic community. The works of this artist, closely related to the aesthetics of naïve art, channel the excitement and sincerity of a direct statement and radiate unusually expressive simplicity. Despite the fact that some critics occasionally label Voronova, an Honorary Member of the Russian Academy of Arts, as a 'lab naivist', her manner is a far cry from mere stylisation, naturally stemming from applied art and never losing this continuity. Looking as if they had stepped straight out of lacquered trays or shawls illuminated with birds of paradise, Lyusya Voronova's paintings have an intense inner life of their own, in perfect tune with the folk microcosm and retaining its symbolism, but full of new meaning.
The artist's palette is also symbolic: red stands for life, blue for sky, black for eternity, and ochre for gold — the same colour 'language' as in icon painting, folk culture, and the classical avant-garde. Nevertheless, the artist values just as much the purity of colour, clarity of lines, and a certain well-orchestrated inner rhythm of compositions.
Lyusya Voronova's characters — women, flowers, birds — find themselves at the very centre of the endless field of life. Each painting is someone's little story, a visual narrative saturated with sheer joy. 'My departure point is always the human being,' comments the artist. 'My initial gesture points to the man, the human condition and its meaning. I am searching for the Human in everyone. People are all very different, each one a universe, a riddle, a surprise. Just draw back the curtain — and you'll see a huge world within every little person, full of flowers, birds, fruit of the land, and kids. People and their stories fill my soul, I feel empathy for them and try to comfort them by inviting them to live in a garden of paradise where wondrous flowers bloom and no one ever cries.'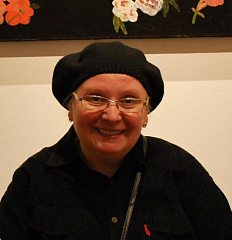 about the artist
Lyusya Voronova was born in Moscow in 1953 and graduated from the Art School of the Moscow Technological Institute in 1978. In 1987 and 1988, she received the Artwork of the Year award from the Moscow Artists' Union. In 2013, Lyusya Vorovonva was awarded the Medal of the Order of Saint Anna and the Bronze Medal of the Russian Academy of Arts, and became the Honorary Member of the Russian Academy of Arts.
Lyusya Vorovonva's artworks were acquired for the collections of the State Tretyakov Gallery, State Russian Museum, National Centre for Contemporary Arts, Moscow Museum of Modern Art, Kolodzei Art Foundation (New Jersey, USA), and other state and private collections. The exhibition at the Erarta Museum showcases artworks from the private collection of Alexander Voronin.