Gurgen Petrosyan. Dividuum
03 April 2019 — 16 June 2019
Erarta Museum presented the first St. Petersburg exhibition by the prominent Moscow-based sculptor Gurgen Petrosyan
The contradictory contemporary experience turns the once complete and self-reliant individual into what Gilles Deleuze aptly named a dividual — a divisible, many-faced human being rapidly losing his or her integrity and personal identity. Dissolution of personality, loss of personal agency, psychological manipulation, simulated reality — all these problems and symptoms of the present seem to be of urgent concern for Gurgen Petrosyan.
Erarta Museum of Contemporary Art is hosting the first St. Petersburg exhibition by this young sculptor who has already become prominent on the Moscow's contemporary art scene. The exhibition, relatively small but heavy in meaning, showcases artworks from three series: Heroes and Gods, Yves Klein's Models and Reds. Their common theme is coming to grips with the current human experience, loss of individuality and identity.
Despite the all-pervading turbulence of meanings and 'the death of the author', Gurgen Petrosyan manages to lose neither meaning not authorship. Reflecting on the anthropological crisis and the arrival of the posthuman era in which the homo sapiens mutate not only psychologically but physically, and the traditional aesthetic codes and their figurative symbols turn into simulacra, the artist creates his distinctive and memorable visions with a truly ironic stoicism capable of ridding this obvious eschatology of any histrionics or banality. His Heroes and Gods series documents former gods and heroes taking on comically obese shapes. Today, they are no longer heroes, but 'desiring machines'. This is essentially a sculptural commentary on our times, a metaphor for the consumerist society attempting to imitate the sublime poses and gestures dating back to antiquity.
Yves Klein's Models also deal with dehumanisation and depersonalisation. A pioneer in the development of performance art, Yves Klein used nude female bodies splattered with blue paint as printing forms, basically consumables. Petrosyan shows bodies and faces of the models flattened and crushed in the act of printing from the reverse side of the canvas, as if through a glass wall, achieving a remarkable feeling of unease.
Pieces from the Reds series add dramatic touches to the overall palette.
Gurgen Petrosyan's exhibition provides a glimpse into the inner world of a contemporary sculptor and intellectual who refrains from mimicking the modernist epitomes of good taste, searching for his own unconventional ways, images and metaphors relevant to our times.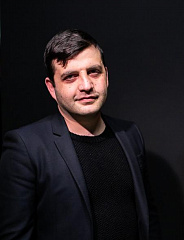 about the artist
Gurgen Petrosyan was born in 1985 in Yerevan.

The artist graduated from the State Academy of Fine Arts of Armenia in Yerevan (2010), the Moscow State Stroganov Academy of Design and Applied Arts (School of Monumental and Decorative Sculpture, 2012), and the Free Workshops School of Contemporary Art (2016).

Participated in numerous group and solo shows at the Moscow Museum of Modern Art, Fabrika Center for Creative Industries, State Museum of Oriental Art, ARTPLAY Design Center, and other institutions.

His works were acquired by the State Museum of Oriental Art, as well as for private collections in Moscow, New York, and Dubai.

The artist currently lives and works in Moscow.