Nick Veasey. X-Ray Men
08 October 2021 — 06 February 2022
Erarta Museum presented an exhibition by the British photographer Nick Veasey who uses X‑ray imaging to reveal the hidden nature of ordinary things
© Nick Veasey 2019

© Nick Veasey 2019
Nick Veasey's oeuvre is typically described as 'Forensic investigation as an art form,' as the artist has chosen the X-ray as the focus of his inspiration. Although he actually works with X‑rays for the majority of his works, he also integrates photomanipulations and Photoshop in order to create a seamless image. Veasey came across such an unusual medium purely by chance – when working as a photographer and designer for a morning television show in England, he was assigned the monotonous task of X-raying soda cans to determine which ones contained a winning code for a contest sponsored by Pepsi. Ennui followed, so Veasey decided to also X-ray his sneakers and realised that the end result had a haunting aesthetic. Perfecting his methodology, he was able to gauge object density and structure by experimenting with a variety of materials including plastic, flowers, metals and people, taking the utmost care with his living subjects. To date however, his portraits use skeletons as opposed to volunteers due to the high level of radiation that is necessary to achieve the perfect pose.
"I want to excite people and help them appreciate the things around them in a new way,' says Veasey. 'X-ray is a very honest process; it shows things for what they are. In this superficial world, that's quite refreshing. It shows a product or an organic thing for how it is made – the design, the ingenuity that goes into them, warts and all."
Veasey's works allow one to strip away the various artificial layers that envelop an object, person, idea or technology. Instead, the visitor is invited to consider the various elements that create the essence of an object found in nature or otherwise, such as in his series focused on flowers: Honeysuckle, Cockscomb, and Bearded Iris, amongst others. 'I like showing the insides of things and how they work. X-ray is a discovery; it's like a forensic investigation into the subject, showing what it's really made of.'
Furthermore, Veasey's works allow one to comprehend the finesse of technology, which we typically take for granted. Even something as established as a car (Pontiac with Gangsters, 2016; California Bug, 2015) is in fact an incredibly complex mechanism that has been perfected over time. For more intricate feats of engineering (F-104 Starfighter, 2016; Veasey Jet, 2013) Veasey's works democratise these technologies, making them accessible to those who would otherwise not have had such an opportunity to see the minute aspects of an aeroplane.
Finally, the artist's works also zero in on the fundamental discord between appearances and being, although Veasey approaches this topic with a certain whimsy. Works such as Poison in My Purse and Chanel Packing Heat challenge the viewer's assumptions that an inconspicuous purse can hold a deadly weapon, hence conflating two incompatible images. The X-rays of handbags also allow one's mind to wonder about the typical association one has with X-rays – that of scanning luggage at airports and other government-mandated venues. The American second amendment right to bear arms also springs to mind, adding a veneer of political controversy to the works of Veasey, questioning where exactly the artist stands in the debate.
Alongside photography, the artist has also worked with alternative mediums, such as lenticular prints, video, and diasec. Lenticular print in particular is used by the artist for portraits, whereby sequential images are spilt behind the lenticular lens, ensuring that the image is not static. Rather, as the viewer passes the work, the character in question starts to move in a way that makes the character instantly recognizable. Hence, Indiana Jones can be seen swinging his whip; Michael Jackson is doing his legendary moonwalk and Elvis is lurching back and forth with his microphone. As with all his works and through the medium of X-ray, Veasey manages to capture a moment in such a way as to immortalise it, cementing his legacy of an exceptional artist.
Exhibition curator – Dasha Vass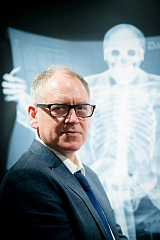 about the artist
Born in London in 1962, Veasey started working in advertising and design, prior to embarking on professional photography full time. When asked to X-ray a soda for a television show, his curiosity was peaked, leading him to create a portfolio of X-ray works, which enjoyed commercial success, culminating in a major exhibition at Maddox Fine Arts in Mayfair, London in 2009. Consequently, the artist has enjoyed wide gallery and museum support as well global recognition when he was commissioned to create the world's largest X-ray. This is of a life size Boeing 777 jet, which currently decorates a hangar at Logan Airport in Boston.
Veasey is the recipient of many photographic and design awards including IPA Lucie Awards, AOP, Graphis, Communication Arts, Applied Arts, PX3 and awards from the D&AD also being nominated for the IPA Lucie International Photographer of the Year 2008.
Nick Veasey's works have been in a number of prominent exhibitions globally, including the V&A museum in London, Seoul Arts Centre and Fotografiska in Stockholm amongst others. His intriguing visuals have also led to assignments for Nike, Porsche, IBM, Bloomberg, and the European edition of Time. Veasey has also appeared on television for the BBC, NBC and Discovery Channel.
official partners of the museum