Anastasia Kuznetsova-Ruf. Principal Reality
19 September 2019 — 25 November 2019
The first St. Petersburg solo show by Anastasia Kuznetsova-Ruf explored reality from a woman's perspective, introducing the artist's signature method of toned painting
The works presented at Erarta Museum reflect their creator's vision — a version of a private reality which to the artist becomes the principal one. The exhibition has no intentional feminist agenda, it simply shows the world from a woman's perspective, appearing as an open, nearly black and white space somewhat similar to Plato's cave suffused with soft light of unknown origin. At its centre we see the woman and children, on the periphery — planes, airports and other alternating guises of the constantly changing reality.
The perfectionist painting style suggests at the same time a nostalgic earning for integrity and primeval eidos, the psychophysical existence of a woman in a particular society, and a sharp recognition of certain elements of existence. Nevertheless, the artist's reality is not limited to unconditional presence in the closely observed and accurately depicted contemporary world. She seems to exist in two dimensions simultaneously — both in the present and in the absolute time ­— using this to emphasise the continuity of life and the interdependence of all its aspects: from a plant's stem to a newly born baby. At times we even get a sneak peek into the dangerous labyrinths of the female unconscious where chthonic powers lie dormant.
Particular mention should be made of Anastasia Kuznetsova-Ruf's unique method of toned painting. Generally using no more than two kinds of art supplies — charcoal or charcoal crayon and only one colour of tempera or acrylic — the artist weaves her spectacular silver-grey painting brocades saturated with almost invisible light of unthinkable happiness.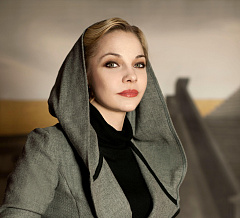 about the artist
Anastasia Kuznetsova-Ruf took part in numerous exhibitions in Moscow, Riga, Stockholm, Uppsala, Rotterdam, Berlin, and other cities. Several of her woks were exhibited in the State Russian Museum. Erarta Museum of Contemporary Art presents the artist's first St. Petersburg solo show.
Anastasia received the Scholarship of the Ministry of Culture of the Russian Federation on three separate occasions. In 2013, she became the runner-up in the 4th PORTRAIT NOW! (PORTRÆT NU!) International Competition, receiving the Brewer J. C. Jacobsen's Portrait Award and becoming the first Russian artist to be awarded this important prize. She is also featured among InArt's Top 100 Established Artists and ARTEEX's Best Russian Contemporary Artists, as well as in the I Like This public art rating, an offshoot of 49ART Russian Investment Art Rating.