Zhenya Mironov. Constructing Metaphors
18 November 2021 — 20 February 2022
Erarta Museum presented an exhibition of photographs by Zhenya Mironov juxtaposing ordinary scenes to alter the conventional perception of reality
An intellectual game hinting at the laws of nature

Conflict and synthesis of two images

A celebrated photographer whose works are in the collections of the State Russian Museum and Multimedia Art Museum, Moscow
Barely thirty three years old, Zhenya Mironov is a widely acclaimed photographer. Leading Russian museums readily exhibit his works reinventing the photographic art. Constructing Metaphors, the series showcased at Erarta Museum, has been in the pipeline for more than a decade, presently comprising over a hundred pictures. In each of them, two ordinary scenes placed next to each other bring forth a metaphor – an image allowing for a radical rethinking of the conventional perception of reality.
Usually shooting in the environs of his home city of Tver, Mironov shuns computer editing, casting real-life objects as actors and elevating them to the status of characters. The unexpected juxtaposition of images induces a conflict. The objects paired by Mironov are similar in appearance, but completely unrelated to each other. 'This is my dramatic and directorial device: the resulting conflict resolves in the viewer's head, spawning a new story arc,' explains the photographer.
The practice of Constructing Metaphors is reminiscent of the intellectual game described in Hermann Hesse's The Glass Bead Game. Endless combinations of quotes and associations follow each other like beads on a thread and allude to multiple arts and sciences. The purpose of the game is to reveal the deep connections and common patterns in all that exists. The snail and the spiral staircase evoke the Fibonacci Sequence, the birds on a wire and plant burrs look like a repeat of a rhythmic pattern, a birch tree and a leaf resemble fractals, and so on indefinitely. These visual puzzles encourage us to use our brains and invite us to join in the creative process. This is exactly the task that the artist says he pursued: to give the viewers freedom to escape from the trap of their prior experience, to leave the matrix.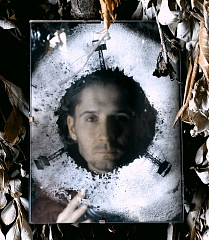 about the artist
Russian photographer and artist Zhenya Mironov was born in Kalinin (present-day Tver) in 1988 and graduated from the Moscow State Institute of Culture (School of Photography). Since 2008, Mironov presented more than 25 solo projects and took part in the 2014 and 2016 Moscow Photobiennale international exhibitions at the Multimedia Art Museum, Moscow and the Moscow Museum of Modern Art. In 2017 and 2019, he was rated among the top ten young (below 35) Russian artists. Member of the Union of Art Photographers of Russia. Mironov's works are housed in the collections of the State Russian Museum, Multimedia Art Museum, Moscow, Embassy of Denmark in Moscow, Rosenergoatom public collection, private collection of Andrey Malakhov, Сredit Suisse Collection, Qatar Museums, and other private collections in France, Switzerland, US, and Canada.