Rasikh Akhmetvaliev. Warm Wind
12 August 2021 — 10 October 2021
Erarta Museum presented the poetic paintings by the prominent Ufa based artist Rasikh Akhmetvaliev
Journeys through time and space

French picturesqueness blending with Bashkir landscapes

An artist whose works are housed in the Tretyakov Gallery
Ufa is a place of extraordinary expressiveness that has been giving rise to remarkable cultural phenomena since the Schytho-Sarmatian era all the way to the present. In the 19th century, this was the birthplace of Sergey Aksakov and Mikhail Nesterov; in the 20th and 21st, it nurtured the talents of Yury Shevchuk, Zemfira, Morgenshtern, and Rinat Voligamsi. This is not the first time that Erarta exhibits contemporary art from Ufa: the large-scale UFAlogy show staged several years ago also featured works by Rasikh Akhmetvaliev.
Rasikh's Warm Wind exhibition reveals a new dimension of the Ufa art school: of neither Conceptual nor Sots Art sensibility, more painterly in nature. Akhmetvaliev appreciates the poetry of life and sees nothing wrong in creating beautiful paintings with special emphasis on the colour palette and ambience. He is sometimes referred to as the 'Bashkir Frenchman,' not only because of the years spent in Paris, but also due to his distinctive worldview, cultural perceptions, and tastes. His art displays an affiliation with the creative values of the Paris school.
Rasikh Akhmetvaliev's paintings remind one of a meadow in may, 'over which women and horses wander' freely and joyfully. Rasikh introduces his French painterly practice into Bashkir landscapes and artistic journeys across countries and epochs, from Byzantium to Spain, using it to reinvent timeless stories and capture the impermanence of space. There is nothing artificial about his creative approach: everything here is natural, well-balanced, and welcoming. The artist's works remind one of a waft of warm wind – the faithful companion of those travelling through time and space. Their journey starts and ends somewhere in the endless expanse of the springtime steppe.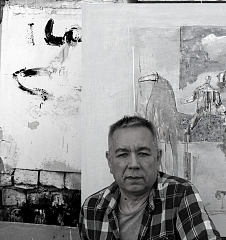 about the artist
Rasikh Akhmetvaliev embarked on his creative journey in the mid-1980s. He was among the founders of the renowned Genghis Khan artistic collective, later being actively involved in staging its exhibitions and other projects. From 2001 to 2008, Akhmetvaliev lived in France and was closely associated with the Bartoux and Visio Dell'Arte galleries. The artist's track record boasts more than 30 highly praised solo shows in Russia and abroad; his works are housed in the State Tretyakov Gallery, Novosibirsk State Art Museum, Kazan National Cultural Centre, and other state and private collections.