Alexander Petrov. Va Banque
03 February 2021 — 25 April 2021
Erarta Museum presented an exhibition by the artist Alexander Petrov whose Expressionist paintings reflect the zeitgeist and energy of the eternal struggle between life and non-being
Vivid, instantly recognizable, aggressive works

Primordial energy of colour meets orchestrated composition

The never-ending clash between man and beast, man and another man, the human and the elemental
Alexander Petrov's exhibition at Erarta Museum showcases the artworks belonging to the artist's most creatively prolific period – from the late 1980s to the early 2000s – and continues the series of shows documenting the history of the Leningrad (St. Petersburg) contemporary art scene. In spite of (and to some extent owing to) his academic background, the beginning of the 1980s saw Petrov as a full-fledged contemporary artist with a distinctive and immediately recognisable style: his paintings marry the primordial energy of colour with perfectly orchestrated composition. Petrov's art amalgamates forms as pure and precise as the Neolithic petroglyphs with the legacy of the 20th-century Expressionism. Here, chaos reigns on epic scale, with no signs yet, however, of either ethics or mythology, resulting in the never-ending clash between man and beast, man and another man, the human and the elemental.
The artist appears equally unconcerned with literary narratives or social urgency: addressing the archetypal motifs, he seems to delve into the depths of irrational memory. Reduced to visual formulas, ideogram-like people act out the eternal storylines of domination, struggle for survival, and procreation. In Petrov's world, this never stops happening, be it among the prehistoric hunters or in the wonderful times of artistic plein-airs. It's all piled up together – the visualisation of basic instincts, a scream of existential anguish, and the pulse of life.
Petrov's art is akin to a hieroglyphic symbol in which the denotation, the outward aspect, and the emotion are equally important. The energy of meanings, conventionalised lines, and active, nearly spectrally pure colours, as well as the concise compositions turn his works into force fields, into clumps of despair, into an imprint of the eternal struggle between life and non-existence. And, within each human being, this struggle plays va banque.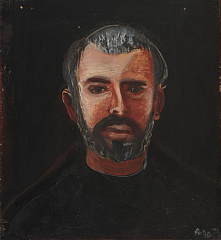 about the artist
Alexander Petrov (1951–2009), member of the alternative artistic association SPASI (St. Petersburg Academy of Contemporary Art), was a prominent figure in the local art scene during the time of transition. Petrov graduated from the St. Petersburg Repin Academy of Arts (class of Andrey Mylnikov) and took part in numerous exhibitions in Russia and abroad. His paintings are housed in the collections of the State Russian Museum, Anna Akhmatova Museum, Erarta Museum of Contemporary Art, and other state and private collections across Russia, Europe, and North America.