Ivan Korshunov. Unconditional Presence
19 September 2019 — 25 November 2019
Erarta Museum presented an exhibition by the Moscow-based artist Ivan Korshunov who marries traditional painting techniques with contemporary imagery
Modern-day parables
The ideal vs. the real
An artist featured among InArt's Top 100 Established Artists
Ivan Korshunov belongs to a generation of talents who seem equally no longer attracted to intuitive spontaneity or the role of a shamanistic creator, to outworn Conceptual quotes or any other practices leading away from the visual: coming to grips with the contemporary existence, they resort to the language of figurative art and adopt the traditional painting techniques. Ivan Korshunov's art is not a simulacrum of realistic painting in, let's say, its Soviet version, but rather a radical turn to the manner and methods of the old masters, to Bible narratives, and to denser layers of artistic time. Armed with these tools, the artist presents what he sees around him as a kind of sacrament, turning it into a fable.
The colour scheme of some of his artworks skews towards Caravaggism of the 17th century. In our post-conceptual times marked by obvious signs of barbarisation and a vague feeling of utter godforsakeness this quest for style and meaning might seem like a very radical gesture indeed — a sort of counterpoint to the overall social and cultural entropy. The artistic realm created by Ivan Korshunov is not merely a collection of disjointed motifs and artefacts: even everyday scenes reveal an attempt to communicate the unconditional presence of a being that imbues everything with meaning. 'To me, man is the image and likeness of God, and I feel His unconditional presence in all things that surround me,' comments the artist. Korshunov, however, refrains from constructing a utopian vision of blissful harmony — the drama of the ideal within the real is one of the exhibition's recurring themes. Stepping inside his sacred rites, one gradually grows uneasy: some major battle has been lost in Heaven, scattering the earth with feathery 'war debris', a shivering angel on the park bench tries to keep warm under a plastic bag, while the fixed stare of the resurrected Goliath, having wandered in search of the enemy, suddenly meets the viewer's eye…
Some might feel that, in Ivan Korshunov's creative universe, parable often borders on popular joke and metaphysics verges on kitsch. However that may be, the artist takes the viewer on a thrilling visual adventure ride akin to time travel: an encounter with large-scale paintings of style and subject matter rarely found in present-day art.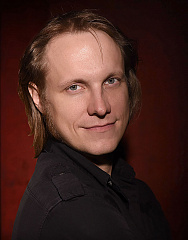 about the artist
Ivan Korshunov was born in Moscow in 1983 and graduated from the Institute of Contemporary Art (Moscow) and the Moscow Surikov State Academic Art Institute, obtaining an art history PhD from the latter. Member of the Moscow Union of Artists.
In 2018 Ivan Korshunov was featured in the I Like This public art rating, an offshoot of 49ART Russian Investment Art Rating, and in 2019, among InArt's Top 100 Established Artists. He is also rated among ARTEEX's Best Russian Contemporary Artists.
The artist has been actively exhibiting in Russia and abroad for more than 15 years.