Vladimir Clavijo-Telepnyov
Timeless
14 May 2022 — 07 August 2022
Erarta Museum presented an exhibition by the renowned art photographer Vladimir Clavijo-Telepnyov revisiting the classical art tradition and alluding to the Proto-Renaissance, mediaeval mosaics, and Northern Renaissance art
Photographs printed directly on wood or canvas

A highly original take on the timeless subjects in art

One of the most distinguished Russian artists whose works are in the private collections of Peter Greenaway and Elton John
Timeless at the Erarta Museum of Contemporary Art is the first solo exhibition by Vladimir Clavijo-Telepnyov in St. Petersburg. The title of the show reflects the creative ethos of an artist who subscribes to the classical art paradigm.
After graduating from the Moscow Printing and Publishing Academy in 1986, Vladimir was mostly active as an exhibiting painter and graphic artist, his photographic practice being merely a side project. Nowadays, he is a full-time art photographer. He believes that 'photography is a very complex language that conveys more meanings than words.' A trademark feature of his creative practice is the reinvention of classical art forms. 'Art has an established canon of subjects, for instance, biblical stories and mythology. They have already acquired a certain shape and structure, like a precious crystal. They cannot be changed, but can be reinvented or combined, yielding interesting results,' comments the artist. Usually making extensive series of images, he only occasionally mixes them in his shows to demonstrate the broadness of his creative range.
The exhibition at Erarta features nearly two dozen large-scale works utilising the signature medium of direct printing on wood or canvas. In certain cases, the artist uses gilting, a technique evocative of the Proto-Renaissance and Northern Renaissance art, as well as mediaeval mosaics. This method serves to distance the image from the immediate present and give it a historical perspective. The show also spotlights a number of panoramic views of the Russian nature and cityscapes from the Stalinist Architecture series. Clavijo-Telepnyov's images make the Moscow high-rises appear as magical places of power. On the other hand, the artist manages to imbue any depicted object with a special meaning, as if detecting and revealing its place and role in the world, disclosing its universal appeal and exceptionality. No wonder that the experts of the Multimedia Art Museum, Moscow (MAMM) have pronounced Vladimir Clavijo-Telepnyov one of the best art photographers of Russia.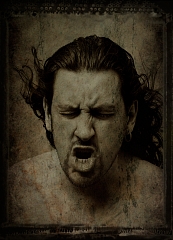 about the artist
Vladimir Clavijo-Telepnyov was born in 1962 in Moscow into an artistic Russian-Colombian family. After graduating from the Moscow Printing and Publishing Academy with a diploma in Graphic Arts in 1986, he set out to find his distinctive voice in art photography. His very first photobook Imperfecto received the East Europe's Best Photographic Book of 2001–2002 award. Clavijo-Telepnyov is a member of the UNESCO International Association of Art, International Association of Graphic Arts Professionals, and the Art Photographers' Union of Russia. His works have been exhibited the world over and can be found in the private collections of Dmitry Medvedev, Nursultan Nazarbayev, Elton John, Princess Michael of Kent Marie-Christine von Reibnitz, and Peter Greenaway.

official partners of the museum