Konstantin Sterkhov. Window Shopping
13 February 2020 — 20 September 2020
Erarta Museum presents an exhibition by the renowned St. Petersburg-based watercolour painter Konstantin Sterkhov who scrutinises the contemporary consumerist society through shop windows
Reflections on the modern man in his constant chase after material objects

Scenes capturing the poignant transience of the moment

The placid world of mannequins juxtaposed against the everyday chaos
The exhibition title is self-explanatory: leisurely examination of shop windows or merchandise without an actual intent to buy anything is becoming a common pastime. Konstantin Sterkhov brilliantly recreates the texture of various fabrics: we almost feel the softness of expensive cashmere, the luxury of furs and silks. However, this opulence barely hides the artist's inner concerns about the people's dissatisfaction caused by their constant chase after material objects. The artist muses on our need to grow emotionally and overcome our shared immaturity: after all, we are not running any serious chances of becoming a better version of ourselves after yet another purchase.
For Konstantin Sterkhov, the transparency of a shop window takes on a symbolic meaning. The transparent glass appears to divide the world in two halves: the 'life' of the mannequins seems placid and constant as opposed to the entropy and chaos of our everyday. Probably it is this unattainable perfection that forces us to spend hours roaming through shopping malls. Standing in front of a shop window, each of us becomes an object of observation: we scrutinise the mannequins while they watch us, giving rise to the duality that Konstantin Sterkhov explores in his art. At times his dummies look so much like real people that one can't help seeing them as the reflection of a modern-day man — a coldhearted biobot jaded by the endless newsfeed whose intellect is stored somewhere in the World Wide Web.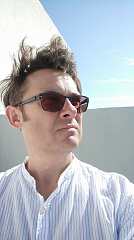 about the artist
Konstantin Sterkhov was born in Izhevsk in 1968. In 1997, he graduated from the Russian Academy of Arts' Repin Institute for Painting, Sculpture and Architecture (St. Petersburg). Konstantin is a member of the Russian Union of Artists, St. Petersburg Society of Watercolour Painters, and Finnish Watercolour Society.
The artist's works were acquired for the permanent collections of the Museum of Fine Arts of the Udmurt Republic (Izhevsk, Russia), Paper and Watermark Museum (Fabriano, Italy), Itä-Häme Museum (Hartola, Finland), as well as for corporate and private collections in Russia, Europe, Asia, America, and Australia.