Sergey Filatov. SonoContour: Sound Architecture
08 August 2019 — 04 November 2019
Erarta Museum presented an exhibition by Sergey Filatov who created a unique acoustic environment shaped by an ensemble of sound sculptures
The artist Sergey Filatov works with the acoustic properties of materials and explores interactions between sound and space. His creative endeavours span the multiple facets of sound art, ranging from sound sculpture and multichannel installations to original musical instruments and performance art. For his solo show at Erarta Museum, Sergey Filatov created a unique acoustic environment shaped by an ensemble of sound sculptures. Reflecting on his sonic explorations, the artist says that he 'invites the viewer/listener to contemplate both individual sounds and the whole soundscape in its entirety.' The artist takes no interest in 'translating' certain media into others by engaging alternative sensory channels. He believes in the unity of sound and image, culminating in an immersive sonic environment giving the viewer/listener a unique absorbing experience.
The sculptures created for the SonoContour: Sound Architecture project employ various technological solutions — many of them Filatov's signature innovations – to generate sound in real time. Despite their 'robotic' nature, the objects and their movements display elements of improvisation restricted by rules of the game set by the artist. Acting almost like musical scores, Filatov's algorithms guide the controllers, which in turn influence the variable magnetic field or cause certain structural elements to collide. The sonic and kinetic behaviour of some of the artworks is determined by chance — a method put into practice by the creative trailblazers of the 20th century.
The sonic environment created by Sergey Filatov encourages us to observe as well as to listen. Even though the sound of each sculpture was initially 'programmed' by the artist, the resulting soundscape largely depends on chance and the specific features of the exhibition space. Having neither beginning nor end, lacking a fixed duration, the acoustic field becomes discrete: each point in space allows for a different listening experience, thus making it virtually impossible to appreciate the installation in one single take.
Sergey Filatov's sculptures objectify the principles of multidimensionality and continuous variation inherent in all natural phenomena. Presented as an immersive installation, they align the sound in space, arranging it in a work of sound architecture. A plunge into an intricately designed soundscape is a one of a kind experience which, while apparently being distant from listening to a music piece or studying the acoustics of the space, contains certain elements of the two. The key to appreciating the environment designed by the artist is in treating your auditory sensations with maximum awareness and gauging them against prior experience.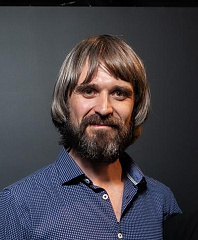 about the artist
Sergey Filatov is a sound artist, musician, designer and developer of electroacoustic musical instruments and sound sculptures.
Member of the Union of Artists of Russia and the International Association of Art (AIAP, UNESCO), resident member of soundartist.ru community.
Participant of the 58th Venice Biennale of Contemporary Art (2019), 5th Baltic Biennale of Contemporary Art (St. Petersburg, 2016), International Cultural Forum (St. Petersburg, 2017), 5th International Biennale of Contemporary Art (Novorossiysk, 2017), etc.