Paperboyo. Cut & Paste
03 Nobember 2021 — 30 January 2022
Erarta Museum presented an exhibition by the British photographer Paperboyo who transforms cityscapes using minimalistic paper cutouts
Handmade site-specific objects populating the sky above metropolises

Reality turned into a cartoon teeming with mass cultural references

An artist collaborating with such major brands as Microsoft, Red Bull, and PUMA
Rich McCor, widely known today as Paperboyo, started experimenting with scissors and cutouts back in his childhood: after all, paper and cardboard were readily available around the house – unlike the more expensive paints and canvases. Later on, in school and college, this traditional craft technique informed the creation of simple stop motion videos.
Early in his creative journey, McCor spent days wandering the streets of London in search of interesting photo opportunities. This inherently playful pastime pursued by many young urbanites gradually helped Rich find his artistic voice. Paperboyo's early creations featured sketches of popular landmarks photographed with these very landmarks in the background, resulting in a peculiar effect: the sketch seemed to draw all the attention away from the sight it was supposed to celebrate. After some experimentation with sketches, Rich suddenly discovered an utterly new method by adding an unexpected and witty twist to iconic views using minimalistic black cutouts that resemble graffiti stencils. One of the first photographs in this style was that of Big Ben transformed into a giant wristwatch.
Particular charm of the site-specific objects that McCor uses to populate the sky above metropolises lies in their handmade origin. His photomanipulations are akin to analogue augmented reality. Sitting at his desk armed with a sharp cutter, the artist creates a kind of global 'paper street art' – somewhat evocative of the visionary architectural designs referred to in Russian as 'paper architecture.' In his exploration of contemporary cities, Paperboyo revisits the traditions of street photography and silhouette-making that used to be in much demand in the first decades of the 19th century. Some might even find his creative practice reminiscent of the old-fashioned animation wherein celluloid sheets were superimposed on a painted or photographic background. Paperboyo's imagery, too, references mass culture and popular cartoons. Closely observing the urban landscape, the artist can't help noticing here a cute animal face, there the ubiquitous portrait of a famous actor. Reality turns into a cartoon, with the artist revealing the aggressive vestiges of mass culture that haunt us, be it the countless photographs of Audrey Hepburn and Clint Eastwood or endless images of dragons and adorable kittens. Like some present-day 'predators,' they are on the prowl for our attention. Paperboyo's art demonstrates that these natives of our subconscious can be chanced upon in the most unexpected places.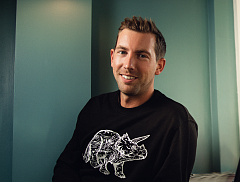 about the artist
Rich McCor, or Paperboyo, is a photographer often described as a 'non-destructive vandal.' Using his camera and paper cutouts, he creates the illusion of artificial perspective. What was initially viewed as a hobby took only a year to go viral. Nowadays the London based artist travels around the world, has nearly half a million followers on social media, and receives commissions from such major brands as Microsoft, Red Bull, and PUMA.