Andreas Wannerstedt. Animation
04 September 2020 — 10 January 2021
Erarta Museum presented mesmerizing 3D animations created by the Swedish artist Andreas Wannerstedt who collaborated with Adidas, IKEA, Google, Coca-Cola, and Omega
A world of appeasing movements and predictable patterns

ASMR-related sensations

A lustrous design aesthetic
Andreas Wannerstedt is a Stockholm based artist who creates 3-dimensional sculptures and captivating looping animations. The artist typically uses a colourful, low-saturated palette; playful geometric shapes, balanced compositions and natural materials. Viewers are transported to a world of appeasing movements and predictable patterns stretching into the infinite. Nevertheless, Wannerstedt manages to attain this whilst maintaining a lustrous design aesthetic.
The initial association that one makes when coming across Wannerstedt's works is ASMR. Autonomous Sensory Meridian Response (ASMR) describes a physical sensation: euphoria or deep calm; sometimes a tingling in the body. The ASMR-related theme that the artist enjoys exploring the most is focused on in his most lengthy series, titled Oddly Satisfying. According to the artist these series '(are) . . . of different short loops, each one based upon the idea to trigger some kind of odd satisfaction and that inexplicable feeling we all know.'
Another series that perfectly captures the methodology of the artist as well as his exceptional technological skill is Infinite Installations. In his work Timeless, a relationship between gold pillars and a solid white sand timer is created, whereby one is unsure which object leads the other. One almost expects a collision between the heavy dense pieces, but of course Wannerstedt provides a different result — as with all his works — that of an infinitely repeating entrancing pattern. All structures created by the artist epitomise his remarkable understanding of function and form. This, in addition to his ASMR resonance, makes the Animation exhibition at Erarta one of the most unique to date.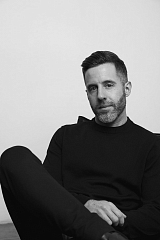 about the artist
After becoming fascinated with 2D animations during high school, in the late 1990s, Wannerstedt went on to study the subject at Hyper Island, a digital creative business school in Sweden. Consequently, he started working with some of the biggest companies in the field and moved to LA. Whilst there, Wannerstedt came across 3D animations for the first time and decided to learn more about them independently.
Since then, he has done commissioned work for recognisable brands such as Google, Omega, Swarovski, Dropbox, Adidas, Ikea, Spotify, Absolut Vodka, Red Bull, Squarespace, etc. Wannerstedt has also participated in a number of art exhibitions, such as WEIRD SENSATION FEELS GOOD, at ArkDes at Moderna Museet in Stockholm in 2019–2020, and in the Emotional Art Gallery exhibition across the city of Stockholm in 2019.