Mario Testino: Superstar
31 May 2019 — 29 September 2019
Erarta Museum of Contemporary Art will stage Russia's first solo exhibition of Mario Testino, a superstar of the world of fashion photography, whose unique talent conquered all the major fashion houses, such as Chanel and Gucci, magazines such as Vogue and Vanity Fair and captivated celebrities such as Madonna, Lady Gaga, Kate Moss and Naomi Campbell
Catherine McNeil, London, V Magazine, 2007 © Mario Testino

Carmen Kass, Los Angeles, Allure, 2009 © Mario Testino

Kate Moss, London, British Vogue, 2009 © Mario Testino

Cara Delevingne, New York, Allure, 2014 © Mario Testino

Lady Gaga, New York, V Magazine,2009 © Mario Testino
Visitors of Erarta Museum will get a first-hand experience of the phenomenon that is Mario Testino, whose works have attracted tributes such as "there is no other artist with such a strong desire for beauty in the world of photography" from Karl Lagerfeld. The vast exhibition encompassing over 50 large-scale works created between 1996 to 2015 presents a mixture of portraits and fashion photographs of celebrities whose names will be instantly recognised by billions worldwide, yet the way they are captured through Mario Testino's lens brings out very different shades of their personality. The feeling one gets from looking at a photograph by Mario Testino is perhaps best summed up by Anna Wintour: "Does anyone look more gorgeous, or regal, or sexy, or subversive, or luminous, than when captured by Mario?"
The exhibition features many iconic images that have resonated loudly throughout the past two decades — the cover of Madonna's seventh studio album "Ray of Light", provocative shots of Kate Moss that adorned billboards worldwide, the vivid and sensual portrait of Lady Gaga, the intimate nudes of Demi Moore and Gisele Bündchen and the candid snap of Keith Richards and Mick Jagger sharing a joke, just to name a few. From supermodels such as Cara Delevigne, Natalia Vodianova and Naomi Campbell to Hollywood A-list of Brad Pitt, Jude Law, Angelina Jolie, Kate Winslet — naming everyone featured in the exhibition at Erarta would be akin to reciting the guestlist for the world's most exclusive party. Mario Testino has always been able to get stars to show a side of themselves that they would only be comfortable revealing in front of his camera, and his philosophy has always been that because he is allowed to see things that most people are not, it's his obligation to show them to the world.
Mario Testino himself says that his "ideal fashion picture has a foot on both sides of reality: I want to enjoy fantasy so real you believe you could go there, so convincing you feel you are already there, but so beautiful that in a way you know it could only be created or exist in a picture". Erarta Museum is delighted to be able to present the opportunity to every visitor to experience such a fantasy. The exhibition runs from the 31st of May 2019 until the 29th of September 2019 and is free for all Erarta Members.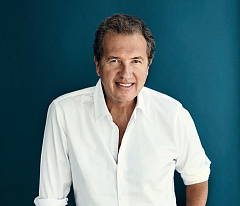 about the artist
Mario Testino was born in Lima, Peru in 1954. His spectacular talent catapulted him from a totally unknown student with a camera, funding himself by waiting tables after his move to London in 1976 to one of the world's greatest fashion photographers of all time and a recipient of the title of honorary OBE (Officer of the British Empire) in recognition of outstanding services to photography in 2014. He is also the recipient of the Order of Merit for Distinguished Service in Peru (2010) and the Tiradentes Medal in Brazil (2007).
Mario Testino's work has been featured in most major fashion magazines such as Vogue, V Magazine, Vanity Fair, GQ, Allure and others. He has created images for campaigns of major fashion brands such as Chanel, Burberry and Versace among others and is especially famous for his collaboration with Tom Ford and Carine Roitfeld on the provocative campaigns of the mid-1990s that played an important role in the revival of Gucci as a major fashion house. He has photographed world-famous celebrities such as Angelina Jolie, Brad Pitt, Demi Moore, Jude Law, Jennifer Lopez and Lady Gaga and his persistence in shooting Kate Moss and Gisele Bündchen is often credited with elevating their supermodel status. One of Testino's most famous series was his work with Diana, Princess of Wales, that has led to him being commissioned to capture some of the most memorable moments of the British Royal Family over the past two decades, for example, creating portraits of the Duke and Duchess of Cambridge on the occasion of their engagement in 2010.
Besides photography, Mario Testino's various endeavours have included positions as creative director and guest editor and his passion for art has led him to not only be an art collector but to also become the founder of the non-profit Museo Mario Testino in Barranco, Lima.
Others about Mario Testino:
"Does anyone look more gorgeous, or regal, or sexy, or subversive, or luminous, than when captured by Mario?" — Anna Wintour
"When a big-name star has her or his picture taken by Mario, it's a meeting of equals" — Anna Wintour
"What beauty means can never be said. Beauty is an experience and can only be justified by the heart. That is how I see Mario's work" — Karl Lagerfeld
"The thing with Mario is that he gets the best of you because he makes you mirror his openness" — Sienna Miller
"Testino has the power to transform celebrities and capture myths through his photographs. He is a maker of images, people and brands" — Malcolm Rogers, former Director, Museum of Fine Arts, Boston