all artists
Aleksey Shtern
about the artist
Aleksey Shtern has had an interesting and diverse professional life that has included a diverse number of positions which he has held at one time or another: stage director, stage artist, painter, and teacher. After he tried his hand at different jobs, the time came to choose one direction, and he chose painting. It must be noted that as a painter, Shtern has invented his own individualized synthetic technique which combines several art forms.
Aleksey Shtern was born in Kazan in 1942. He started to draw at the age of eight. The artist-to-be decided to enter a children's art school and then failed the entrance examinations. Shtern says that the head of that school felt sorry for him and accepted him in spite of his bad scores. As it is often the case, the boy proved to be a perfect student who loved his drawing classes, and staying home rather than going to school was the worst punishment he could imagine. It is also not surprising that Aleksey later enrolled in an art school where he studied until 1961, when he was dismissed for 'misbehaviour'. As he still had a burning desire to develop his skills, Shtern moved to Kharkov where he studied painting in Boris Kosarev's workshop at the Kharkov Art Institute. Kosarev was a theatre stage artist who knew Velimir Khlebnikov and Isaac Babel personally. Kosarev was also a member of cubo-futurist circles, designed propaganda publications and trains and then took on serious work on theatre performances in the first Ukranian children's theatre in the People's House of Kharkov as well as many other theatres. It is likely that this friendship with Professor Kosarev had an impact on Shtern's affections towards the theatre. In 1967, when he graduated from the institute, Aleksey Shtern started working as a stage artist in several Ukranian theatres and teaching at the institute. In 1971 Shtern began attending stage director courses at the Moscow Art Theatre School. Afterwards, he worked there and later at the Akimov Comedy Theatre in Saint-Petersburg. During his theatrical career, Aleksey Shtern directed the following plays: 'Interrogation' by Rodionov, 'I was happy, happy, happy' from Anna Dostoyevskaya's diary, 'Diary of a Madman'by Gogol and many others.  Aleksey Shtern left the theatre in 1979 and devoted his life to teaching in the drama workshop at the Repin Academy of Arts.
In the year 2000, the artist quit teaching, and has since devoted himself to drawing. He illustrated poetry books by his father, a poet who had been subjected to repressions, and made many sketches — landscapes and portraits.  Portraits is a genre that Shtern especially loves, he has created a series of portraits of his contemporaries. As a stage artist Shtern likes working with nontraditional materials. He often paints portraits on rounds cut from old trees rimmed with cracked bark, or on fiberboard covered with a thick layer of plaster which he has coloured. The surface of these portraits crack, which form real folds and wrinkles on the faces. This unusual technique is also applied by the artist to large format subject paintings. These large works can be highly ironical or lyrical and depict historical and mythological characters. In spite of using non-traditional materials for painting, Shtern values traditional characteristics of art. For him, painting should be developed and worked at. Painting should have both psychological and narrative elements, which the artist tries to embody in his works.  
show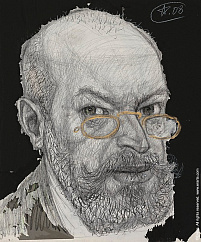 biography
Alexey Shtern was born in 1942, in Kazan; currently lives and works in St. Petersburg.
Education
1959—1961 — Kazan Art School
1962—1967 — Kharkov Art Institute, Faculty of Painting (studio of B. Kosarev)
1971 — Directing Department of Moscow Academic Art Theatre College
Solo Exhibitions
2012 — House of Actors, St. Petersburg, Russia
2009 — DiDi Gallery, St. Petersburg, Russia
2008 — State Darwin Museum, Moscow, Russia
2007 — Central House of Architects, Moscow, Russia
2006 — Oleg Tabakov's Studio Theatre, Moscow, Russia
2006 — DiDi Gallery, St. Petersburg, Russia
2005 — The State Russian Museum, St. Petersburg, Russia
2003 — Gallery on Varvarka, Moscow, Russia
2002 — Anna Akhmatova Museum at the Fountain House, St. Petersburg, Russia
2001 — Novosibirsk Art Museum, Novosibirsk, Russia
2001 — Delta Gallery, St. Petersburg, Russia
2000 — Institute of Genetics and Reproduction, Chicago, USA
2000 — Seven Nails Gallery, Moscow, Russia
1999 — Anna Akhmatova Museum at the Fountain House, St. Petersburg, Russia
1998 — Smolny Cathedral Exhibition Hall, St. Petersburg, Russia
1994 — F. Dostoevsky Memorial Museum, St. Petersburg, Russia
1992 — Delta Gallery, St. Petersburg, Russia
1969 — Kharkov Youth Theatre, Kharkov, USSR
Collections
The State Russian Museum, St. Petersburg
Anna Akhmatova Museum at the Fountain House, St. Petersburg
Manezh Central Exhibition Hall, St. Petersburg
Erarta Museum of Contemporary Art, St. Petersburg
A. A. Bakhrushin State Central Museum, Moscow
Museum of Moscow Academic Art Theatre, Moscow
Astrakhan Art Museum, Astrakhan
State Museum of Karelia, Petrozavodsk
State Fine Arts Museum, Kazan, Tatarstan
Novosibirsk State Art Museum, Novosibirsk
Perm State Gallery, Perm
Surgut Gallery of Contemporary Art, Surgut
Tomsk Art Museum, Tomsk
Omsk Museum of Fine Arts named after M. Vrubel, Omsk
Krasnoyarsk Art Museum, Krasnoyarsk
Art Gallery, Komsomolsk-on-Amur
Museum of Russian Art, Kiev, Ukraine
Nikolaev Museum of Fine Arts, Nikolaev, Ukraine
Private collection of Dr. Verlinsky, Chicago, USA; private collection of Rene Guerra, Paris, France; private collection of A. Obolensky, Nice, France; private collection of N. Blagodatov, St. Petersburg, Russia