all artists
Nikolay Sazhin
about the artist
Sazhin's idiosyncratic works are easily distinguishable from all others within the Erarta collection. Following a formal classical education, Sazhin was able to refine his technique in such a way that he was able to adapt it to his revolutionary subject-matter, whilst still being true to his artistic aims.
One of the distinctive aspects of his artistic manner, is the recurring form of languid pears and erotic forms. These almost echo O'Keeffe's work in the 20s and 30s, but in a contemporary setting. The tonalities of the works are more profound at darker shades, and the way in which Sazhin manages to keep the viewer breathless with anticipation, whilst only engaging in four shades at most in his works is very impressive.
One of the stupendous aspect of his works is that they are simultaneously abstract yet figurative, without giving the impression of being discordant. His works such as 'Two' seem to be hold a series of images which allude to representation of objects within nature, such as frogs, but somehow manage to remain abstract.
On a biographical note, Nikolay Sazhin was born in Troisk, part of the Chelyabinsk Province in 1948. Consequently to an extensive interest in the art and fine art in particular, Sazhin went on to graduate from the Serov art school, one of the dominant artistic establishments at the time. Having graduated from the Serov school, Sazhin went on to be accepted and flourish at the Repin Academy of Fine Arts in the graphics department. Accordingly, the artist graduated in 1978, and sent on to teach and inspire young talents at the Serov art school up till 1989.
Sazhin's unique teaching methods and wide-spread popularity with his students saw him being welcomed as a guest lecturer at Washington State University and Reed College in Portland, Oregon. These high-profile teaching positions between 1989 and 1990 ensured that Sazhin was accepted as being an honorary professor at the National Academy of Art and Design in St. Petersburg from 1997 onwards.
show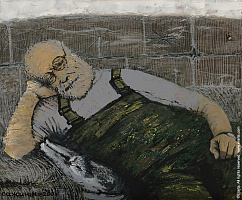 biography
Selected Solo Exhibitions:
2010 Erarta Museum and Galleries of Contemporary Art, Saint Petersburg, Russia.

2008 The Museum of Applied Arts of the State Saint Petersburg Academy of Art and Design, Saint Petersburg, Russia..

2008 ART re.FLEX Gallery, Saint Petersburg, Russia.

2004 The State Russian Museum, Saint Petersburg, Russia.

2004 The Museum of Urban Sculpture, Saint Petersburg, Russia.

2000 Modern Art Gallery «Avrora», Tver, Russia.

1999 Museum of Nonconformist Art (Pushkinskaya, 10), Saint Petersburg, Russia.

1997 Palitra Art Gallery, Saint Petersburg, Russia.

1995 State Art Gallery, Novosibirsk, Russia.

1994 Palitra Art Gallery, Saint Petersburg, Russia.

1994 Exhibition Hall «Fiodor», Sestroretsk, Russia.

1993 Mars Art Gallery, Moscow, Russia.

1993 Davidson Art Gallery, Seattle, Washigton, USA.

1991 Exhibition Hall «Fiodor», Sestroretsk, Russia.

1991 Diaghilev Art Center, Saint Petersburg, Russia.

1991 Davidson Art Gallery, Seattle, Washington, USA.

1988 Museum of Art and History, Vyborg, USSR.

1988 Lenfilm Motion Picture Studio, Leningrad, USSR.

1988 Carolyn Staley Art Gallery, Portland, Oregon, USA.

1985 Sverdlov Culture Palace, Club «Vernisazh», Leningrad, USSR
Selected Public and Private Collections:
The State Russian Museum, Saint Petersburg, Russia;

Erarta Museum and Galleries of Contemporary Art, Saint Petersburg, Russia;

The Russian National Library. Saint Petersburg, Russia;

Akhmatova Museum at Fontanny Dom. Saint Petersburg, Russia;

Central Exhibition Hall «Manege». Saint Petersburg, Russia;

Saint Petersburg State University. Saint Petersburg, Russia;

Museum of Nonconformist Art (Pushkinskaya, 10). Saint Petersburg, Russia;

The Pushkin Fine Arts Museum. Moscow, Russia;

The State Art Museum. Tallinn, Estonia;

The Regional Art Gallery. Novosibirsk, Russia;

The Regional Art and Historic Museum. Ryazan, Russia;

Zimmerli Art Museum. New Jersey, USA;

Erotic Art Museum. Hamburg, Germany;

The State Museum of International Art. Beijing, China;

Versailles University. Versailles, France;

Republican Art Museum of Karelia. Petrozavodsk, Russia;

The Diaghilev Art Center. Saint Petersburg, Russia;

The Contemporary Art Museum. Sosnovy Bor, Russia;

Urban Architecture Museum. Saint Petersburg, Russia;

The Regional Art Gallery. Tver, Russia;

The Kasteev State Art Museum. Almaty, Kazakhstan;

The Kustodiev Art Gallery. Astrakhan, Russia;

The State Museum of Contemporary Art of Tatarstan. Kazan, Russia;

The Regional Art Museum. Tomsk, Russia;

The Vereshagin Art Museum. Nikolaev. Ukraine;

The State Art Gallery. Magnitogorsk, Russia;

Museum of Russian Academy of Art. Saint Petersburg, Russia;

The Regional Art Museum. Murmansk, Russia.

Sazhin's works can also be found in private collections in Russia, France, Germany, USA, Italy, Switzerland, Israel, Norway, Finland, Denmark, Japan, China