all artists
Vladimir Khakho
about the artist
Vladimir KhaKho is a profoundly Saint Petersburg artist, although he is petersburger not by birth, but his own choice. Vladimir was born in Chelyabinsk, then his family moved to Far East, then to Sochi – the ancient homeland of shapsugs, one of the circassian tribes, where "KhaKho" is one of the most common last names. Already after naval service, graduation from Krasnodarsk art school and working in one of the schools in Sochi KhaKho came to Leningrad and entered former Vera Mukhina Leningrad Higher School of Art and Industry (present Saint Petersburg State Art and Industry Academy).
90's were the time of forming KhaKho as "lone wandering" author, who didn't join any artists groups. He recalls this time like that: "Saint Petersburg of the early 90's was similar to one big courtyard, where various artistic fermentation happened. Those days we lived in squat on Chaykovsky, 20. In courtyard of the same place "LF/HF" (low frequencies/high frequencies") situated, "Kochevye", in the apartment below us was necrorealist Valera Morozov, above us was Sasha Potolitsin, Tolik Alekseev and Lena Parshina, behind the wall was Andrey Rudyev… Life was fun. Besides, the process of "lamination" already began, and in spite of plenty of acquaintances and friendship with different artists groups, I had the feeling that we barely intersect with "New artists". It was like we lived in the same house, but on different floors. In fact, this situation remains the same".
Distinctive features of KhaKho early works were static condition and colored local stains, divided and intertwined by dark lines. The surface of paper or canvas was skillfully made texture. Vladimir subsequently wrote: "Works were heavy, and I felt an expression living inside me, which couldn't find an exit in such works". A significant influence was exerted on him by two excellent artists – Chinese Li Lu and Japanese Morita Shiruyu. Their artworks are development of traditional calligraphy into abstract expressionism. In KhaKho works coloring became more sophisticated. Instead of more or less familiar geometrical symbols almost real motives appeared which was more precisely that real motives turned into abstract image. Painting became more transparent and lightful.
With age the artist stopped identifying himself with any style. In fact, his works should be perceived as not theological but phenomenological. In unpublished autobiographical notes KhaKho writes: "One artist of XIV century Ni Zan said: "I paint for my feelings to release, which accumulate in my heart". These words explain everything excellently, and all the other thoughts look either too smart or completely complicated. Once I saw an article about some exhibition and there was one definition in it – "Lone wandering". I suppose, it's about me." The essence of his works Vladimir describes by next words: "In fact, the main and only subject for creation for me remains the painting itself, like a search for reality of today".
show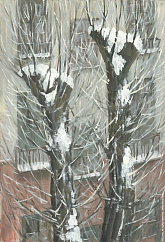 biography
Khakho Vladimir was born in Chelyabinsk in 1956. He lives and works in Saint Petersburg.
Education
1979–1983 — Krasnodarsk Art School
1986–1990 — Saint Petersburg State Art and Industry Academy (former Vera Mukhina Leningrad Higher School of Art and Industry).
Creative union and artists groups and collectives membership.
Member of Artist Union of Russia since 1997.
Main exhibitions
1990 — "From the Unofficial Art to the Reconstruction", Saint Petersburg
1990 — "Sparts" gallery, Paris
1991 — "War Elephants" group, Leiden
1992 — "War Elephants" group, "Borey" art center, Saint Petersburg
1994 — symposium and exhibition in Villa Hanni, Göhren, Rügen
1994 — exhibition of collection of Amber gallery, OUD Kerk, Amsterdam
1995 — Galerie der Kreissparkasse Nordhausen
1995 — Arbeitskreis Kunst & Co. e.v., Schoss Sondershausen
1996 — "Amber" gallery, Leiden
1996 — "Cadans" gallery, The Hague
1997 — Stadt Museum auf Neustrelitz
1998 — "Amber" gallery 10th Anniversary, Leiden
1999 — "Izo Dorizo", Saint Petersburg
1999 — graphics exhibition for 100th Anniversary of Nabokov's birth, Center of Book illustration, Saint Petersburg
2000 — "Art polyphony: dot, dot, comma", National Library of Russia
2001 — "Fish imagery", "Art-Gavan", Saint Petersburg
2002 — "Moyka art workshop" exhibition, Saint Petersburg
2002 — "2V", exhibition with Vladimir Grig, gallery on Gorokhovaya, 55, Saint Petersburg
2004 — II International Independent Graphics Biennale, Saint Petersburg
Personal exhibitions
1993 — "Sergey Popov" gallery, Berlin
1995 — Galerie der Kreissparkasse Nordhausen
1996 — "Amber" gallery, Leiden
1997 — Stadt Museum auf Neustrelitz
2000 — Amber gallery, Leiden
2002 — Paravent-expirement, installation in Alte Feuerwache Loscwitz, Dresden
2003 — "Nota Bene!" gallery, Saint Petersburg
2005 — "Borey" art center, Saint Petersburg
2007 — "View from the window", "Matisse club" art gallery, Saint Petersburg
2009 — "M-ART" gallery, Saint Petersburg
2010 — "Local time, reflections", "Matisse club" art gallery, Saint Petersburg
2011 — La galerie Ruine, Geneva
2012 — "Borey" art center, Saint Petersburg
2014 — "Through the Looking Glass", "M-ART" art gallery, Saint Petersburg
Collections
Erarta Museum and Galleries of Contemporary Art
Krasnodarsk Lunacharsky Art Museum
Stadt Museum auf Neustrelitz, Germany
National Library of Russia
"Borey" art center, Saint Petersburg
Museu Raset — Museu d'Art Modern, Cervià de Ter