all artists
Vladimir Migachev
about the artist
Vladimir Migachev was born in 1959 in a small village within the Oryol region. This remote location allowed him to experience an untainted nature. In the late seventies, the whole Migachev family were forced to relocate to Krasnodar, where Vladimir was enrolled into the art and graphics department of Kuban' State University. The institution at the time was enjoying an upsurge in popularity in the arts department, due to increased financial funding. Consequently to graduation, Migachev pursued his passion for artistic endeavor though teaching technical drawing as well as standard drawing courses in secondary schools within the area. Furthermore, Migachev was also developing the artistic community in the university locally. Throughout this period of artistic instruction, Migachev was also painting and producing art works in his free time.
According to Migachev personally, abstraction was the first artistic movement that he was captivated by. Migachev consistently explored abstract painting from 1986 till the mid-nineties, whilst simultaneously incorporating modern artistic developments. Migachev was drawn to abstraction due to its enrapturing independence from a physical painting theme, its lack of literary references as well as its ability to impact the viewer by means of figurative subjects, particularly color and composition.
The year 1997 saw Migachev take to painting the interiors of Orthodox churches, which to him was not only a meditative period, but also a highly symbolic ones as well. This work on monumental compositions within the limits of strict religious and institutional canons which are full of symbols and philosophy gave Migachev a strong impetus for reconsidering his form of artistic oeuvre.
In the late nineties, Migachev returned to figurative painting, whilst still accounting for his previous followings. With time, landscape became his favorite genre. Nominally, Migachev paints his surroundings of vast, ploughed fields of Kuban' with rare islands of poplars, vineyards, steppe farmsteads and railways. Despite a similar subject matter, this does not signify that Migachev was attempting to recreate a neo-impressionistic series of works. Rather, Migachev's landscapes are a result of the artist's individual 'spiritual vision' that lets him see the essence of what is happening in the world. This essence is austere and disquieting.
Migachev works in a specific style that combines a graphic monochromatic look with brutal textures of coal, soil, concrete and conglomerated objects. The artist brings the basic components of landscape, earth, sky, water and trees to the state of laconic formula and symbols.
T
he artwork of Vladimir Migachev is well-known in the Russian art world. He often exhibits in Moscow and has generated a growing interest in his art abroad. His painting reveals the synthesis of the national spiritual culture with the latest trends of the world art.
show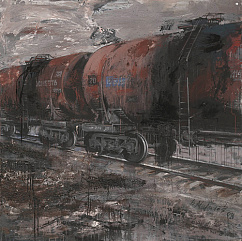 biography
Selected Solo and Group exhibitions
2008 – Hudgraph 2008, VOLGA art gallery, New Manege, Moscow;

2008 – Simple Numbers, Solo exhibition, VOLGA art gallery, Moscow;

2007 – Art Manege, VOLGA art gallery, Manege, Moscow;

2007 – Landscape for Anna, Solo exhibition VOLGA art gallery, Moscow;

2007 – Hudgraph 2007, VOLGA art gallery, New Manege, Moscow;

2006 – Solo exhibition, Art Manege, Moscow;

2005 – Group exhibition of artists of the Gallery of Karina Shanshieva. Central House of Artists , Moscow;

2005 – Solo exhibition, Gallery of Karina Shanshieva. Personal exhibition in art hall «New Manege»;

2005 – Solo exhibition, Gallery of Karina Shanshieva. Prechistenka, 30. Moscow;

2005 – Personal exhibition «Negative landscape», National Art Museum of Krasnodar;

2004 – Solo exhibition, Gallery of Karina Shanshieva, art market "Best Galleries of Moscow";

2003 – Art Manege, Moscow;

2003 – olo exhibition in gallery 'Klarissa', Krasnodar;

2003 – Region, group exhibition "South of Russia", Krasnodar;

2003 – Painting, Solo exhibition, Museum of Krasnodar;

2002 – Sthlm Art Fair 2002, Stokholm, Sweden;

2000 – 11 variants, Central House of Artists , Moscow;

1996 – Art Manezh, Moscow.

1995 – Pearl of Sea, Central House of Artists , Moscow;

1994 – Artists of Krasnodar, Group exhibition, Karlsrye, Krasnodar;

1993 – Art Mith-3, Moscow;

1992 – White dragon, Krasnodar;

1989 – Youth of Russia, Group exhibition, Central House of Artists, Moscow.
Migachev's works can be found in public and private collections in Russia, the Netherlands, Germany as well as the rest of Europe and America.