all news
Erarta Museum Inaugurates an Annual Contemporary Art Prize
The total prize value of 3.2 million rubles will be divided between artists (2.5 million rubles) and viewers (700,000 rubles). For the first time in history, the Prize will be awarded through a public vote rather than by a closed board of experts
This premise is consistent with Erarta's core philosophy: art is being created by the artist, but it is the viewers' perception that makes it truly powerful. That is why Erarta encourages the viewers to not only vote for the artworks of their choice, but to actively campaign for them and promote them using any creative methods imaginable.
From 9 February through 11 June 2023, Erarta's main exhibition space will showcase 50 creations by our contemporaries selected by the museum out of the entire pool of works submitted by the artists competing for the Prize. The exhibition will be accompanied by two rounds of viewer voting: on 10 April, 10 artworks will be shortlisted based on the outcome of the viewers' secret ballot vote, while on the show's closing date the results of the viewers' open public vote will be announced. The 2.5 million rubles of prize money will be distributed among the creators of the top 10 artworks according to the same principle: in proportion to the number of viewer votes received. Every viewer shall have one vote for each round. The 700,000 rubles worth of prize money will be distributed among the viewers deemed by Erarta to be the most committed to and creative in supporting their favourite artworks.
Erarta invites everyone to take an active part in organising the exhibition and finalising its results. The official call for entries closed on 1 November 2022. Please visit prize.erarta.com to learn more about the Prize awarding procedures.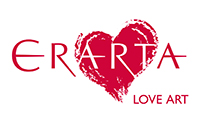 Спасибо!
ЭРАРТА — самый масштабный проект в сфере современного искусства России. Это новый подход к популяризации искусства и к зрителю, стремление построить новую систему взаимоотношений людей и искусства.