guidelines for viewers judging the competition

For the first time in history, a contemporary art prize will be awarded through a public vote rather than by a closed board of experts. This premise is consistent with Erarta's core philosophy: art is being created by the artist, but it is the viewers' perception that makes it truly powerful. That is why Erarta encourages the viewers to not only vote for the artworks of their choice, but to actively campaign for them and promote them using any creative methods imaginable.
The 700,000 rubles worth of prize money will be distributed among the viewers deemed by Erarta to be the most committed to and creative in supporting their favourite artworks. This page will tell you how to vote, take part in awarding and winning the prize money, as well as how to campaign for the artwork you like.
second round prize challenges
---
winners of the first round prize challenges
On 10 April, a special gala event was held to unveil the 2023 Erarta Prize shortlist and announce the results of the first voting round prize challenges. 100,000 rubles were distributed among the 10 participants of the Vote and Win challenge, 10 creators of the best video campaigns supporting their favourite artworks shared 250,000 rubles, while 50,000 rubles went to the winner of the Come Up with a Title and Win challenge.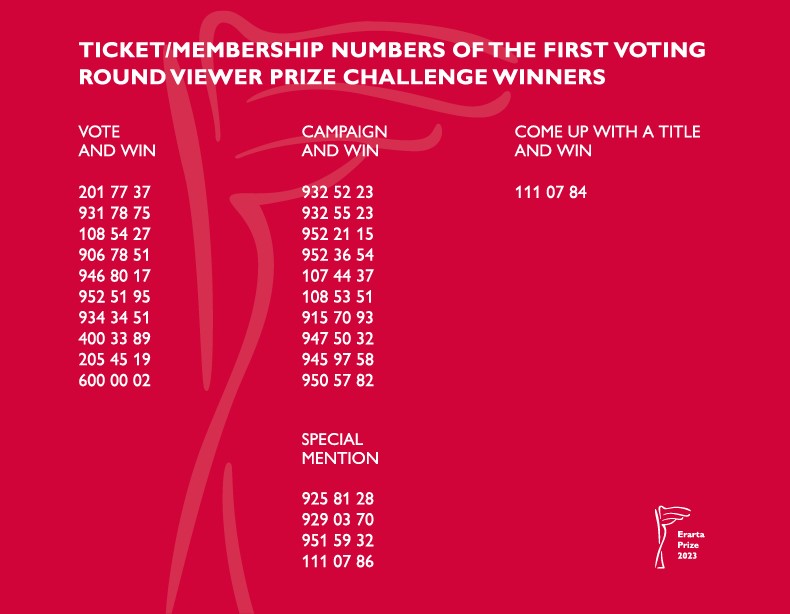 Log in to my Erarta account to check your Ticket/Membership number and, if you find it on the winners list, make sure to contact us at erartaprize@erarta.com