Ekaterina Posetselskaya
City Solitude
12 April 2023 — 16 July 2023
Erarta Museum presented an exhibition by Ekaterina Posetselskaya, an artist based between St. Petersburg and Paris whose cityscapes are steeped in a lively sense of space, light, and rhythm
A form of an inner self-portrait materialised through city motifs

Streets of St. Petersburg, Paris, and London appearing in a desolate silence

City landscapes that seem to reflect not only the past experiences but the entire load of emotional and cultural memory
Ekaterina Posetselskaya is an artist based between St. Petersburg and Paris. Born and educated in St. Petersburg, Posetselskaya presently lives and works in this city; however, it was far from home, in France, that she first achieved professional renown. Since 1992, she has been frequently exhibiting her works in Paris – perhaps even more often than in Russia. Visits to the French capital and friendship with the artist Boris Zaborov informed Ekaterina's artistic taste, vision, and style – utterly original and always recognisable.
At various times, Posetselskaya expressed herself through painting, batik, art prints, book design, and even Easter egg decoration and tapestry. She is most well-known, however, for her dry pastels, exceptional attention to colour nuances, and a special feel for cityscapes. Her depictions of cities, be it St. Petersburg, Paris, or London, seem to be steeped in both the 'longing for the world culture' that Osip Mandelstam referred to and a lively sense of space, light, and rhythm chiming with one's spirit. Posetselskaya's landscape might be a form of an inner self-portrait materialised through city motifs, while the City Solitude exhibition is akin to a book charting these inner states.
The artist's works are not so much about architecture as such, but rather about a certain atmosphere, intonation, melody or emotion. There is something about her art that escapes definition. Fragments of a city appear in a desolate silence, alone with the world at some predawn hour. Freed from all hustle and bustle, the city exists all by itself, in complete solitude. Nothing here is artificial or contrived. Posetselskaya's art is born naturally on the borderline between Impressionism and metaphysical landscape, fusing all qualities and features of the two. Every picture seems to reflect not just the recently 'experienced' cityscape, but the entire load of emotional and cultural memory.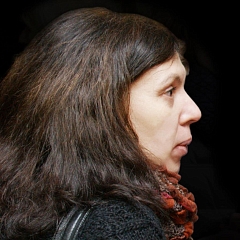 about the artist
Born in 1965, Ekaterina Posetselskaya was passionate about drawing and foreign languages since childhood years. After graduating with distinction from the Vera Mukhina Higher School of Art and Design in Leningrad, she has been active as an easel graphic artist and book illustrator, having illustrated nearly three dozen editions, including children's books. She is a member of the Artist's Union of Russia, St. Petersburg Creative Union of Artists (IFA), Art Critics Association (AIS), National Pastel Society of Russia, and the Taylor Foundation Association of Artists (France). Ekaterina took part in more than 250 exhibitions, including the Salon des indépendants, Salon du dessin, Salon des artistes français at the Grand Palais (Paris, France) and Salon Artcité (Fontenay-sous-Bois, France). Her solo shows were staged at various galleries in London, Paris, Reims, Orleans, as well as at Moscow and St. Petersburg museums. The artist's works are housed in the permanent collections of the State Hermitage Museum, State Russian Museum, Anna Akhmatova Museum, Museum of St. Petersburg Art of the 20th and 21st centuries, as well as other museum and private collections worldwide.