Felipe Lavín
Digitized
08 June 2023 — 08 October 2023
Erarta Museum of Contemporary Art presents an exhibition by the Chilean artist and photographer Felipe Lavín exploring the relationship between the individual and the cityscape
Video installations and photographs inspired by metropolitan landscapes

More than 30 artworks, each presenting a kind of contemporary urban barcode

Residents of NYC, Paris, Barcelona, Frankfurt and Mexico City 'digitized' by their urban environment
Upon initial glance the works of the Chilean artist Felipe Lavín seem to be deconstructions of the urban jungle. The technique that is utilised is unique to the artist and one that extends a slice of the x axis of a particular captured motion, that then expands the colour horizon upwards along the y axis. As a result, a series of two dimensional coloured lines are formed, which present as a kind of contemporary urban barcode. Lavín has utilised this technique in both the format of photography and video.
In this way Lavín has ventured into a kind of vertical field photography and one that diminishes dimensionality of whichever image serves as the basis of the work. The roots of such exploration emulate neo-plasticism in photographic form, as initially introduced by Piet Mondrian, who used only horizontal and vertical lines and primary colours. The term 'plastic arts' was originally used to denote all visual art forms such as painting, sculpture and ceramics as opposed to for example literature or music. From the Dutch 'De Nieuwe Beelding,' the movement sought to encapsulate art as a pure representation of the human mind, hence in abstract form. It wanted to strip art away and find its origins in the most fundamental state: primary colours, line forms and shapes.
Here however, instead of abstraction throughout, Lavín fundamentally roots his works within the metropolitan landscape, leading one to question the relationship between the individual and the cityscape. The cities where the images were captured are megapolises – here nature is very much supressed by the carnivorous edifices whose architectural purpose is to house and absorb the masses of people who work and live there. The vertical bars stemming from the segment of the images echo these large-scale dwellings, whilst reminding one of abstract kinds of barcodes, meaning that the individuals in the works have essentially been digitized by their urban environment.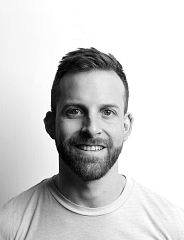 about the artist
Felipe Lavín is a Chilean photographer and artist, born in the capital, Santiago, in 1987. Upon graduating from Pontificia Universidad Católica de Chile's Construction Engineering School, he started venturing into the art world by participating in several photography courses and workshops. During a student exchange to Canada in 2010 he attended digital photography classes at the University of Montreal, where he deepened his interest in urban and architectural image. His self-taught practise has been developing since, ensuring his participation in a number of solo and group exhibitions globally.
This exhibition has been made possible through a collaboration with Factoría Santa Rosa Art Gallery

official media partners of the museum