Erik Johansson. Land of Illusion
12 July 2024 — 10 November 2024
Erarta Museum of Contemporary Art presents the 'photorealistic surrealism' of the Swedish artist Erik Johansson
Dreamlike images composed of hundreds of original photographs
Nature seamlessly blending with the artificial physical world
An artist collaborating with Volvo, Google, Toyota, Microsoft, and National Geographic
Self-described as photorealistic surrealism, Erik Johansson's remarkable works will be shown in Erarta in the autumn of 2022. The most exceptional aspect to Johansson's work is his ability to effortlessly create a hauntingly aesthetic world which only upon a second glance challenges our physical laws. The elements that he attempts to capture can directly and indirectly contradict each other, and yet Johansson manages to present the relationship as seamless.
'I try to create images where I don't need to tell the story, but the image itself will tell it and the interpretations can be as many as the viewers. The only clue to what I would like to say with an image is its title,' says Johansson.
Although Johansson initially studied computer engineering, his ultimate childhood passion for artistry and photography prevailed. By the time he moved to Berlin in 2012, he was fluent in digital manipulation, Photoshop and Lightroom, enabling him to pursue his art full time. Johansson's highly methodical shooting is on location with his Hasselblad H6D-100c camera; in a controlled environment so that postproduction can combine images in a highly realistic manner. The artist does not use any computer generated, illustrated or stock photos within his oeuvre. Rather, every image seen in his works is a complex combination of his own photographs, which is impressive as he has no studio assistants.
Johansson is inspired by a number of modern artistic movements, citing Dali and Magritte in particular, hence a number of his works can be seen as surrealistic. Magritte specifically comes to mind in relation to Johansson's work Clienia + Basic, where we see a couple who have physically painted their way out of their home into nature. Pointedly sheep also play a continuous role in his works, such as in Cumulus & Thunder and Closing Out. The sheep's woolly coat does naturally associate in one's mind with soft clouds, which is what Johansson seeks to represent in the former. In the latter, a literal 'black sheep' stands stoically on the cusp of two seemingly incompatible places – a field at midnight and a painter's corner.
The Dutch graphic artist M.C. Escher with his logically impossible labyrinthine structures is also echoed in Johansson works. In another similar work, titled The Architect, we are able to see simultaneously the interior and exterior of a small cottage with a contemplative man at its epicentre. He is presumably the architect – lost in his creative world with a large number of failed sketches piling up next to him. A dog looks toward the viewer, sharing with us its sense of frustration. The interior floor blends with the field outside in such a way that we really get the sense that we are glimpsing into two worlds simultaneously: the one of the internal struggles of the architect and the sombre outside world. Other works in this genre that will be shown in the exhibition are Under the Corner and Self Supporting.
As with all the works by Johansson, it pays to give special attention to his use of light, whereby artificial sources – lamps, indoor lighting, computer screens and fires are shown interchangeably with the sun and moon. This seems to epitomise his ultimate goal – of blending nature with the artificial physical world we have imposed upon in, creating in essence, a land of illusion.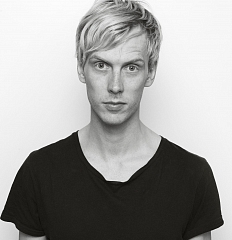 about the artist
Erik Johansson (born 1985) is a photographer and visual artist from Sweden currently based in Czech Republic. Born in Götene, a small town in Sweden, his childhood prompted the artist's affiliation with nature, which continues to this day and is echoed throughout his works. In 2005 he moved to Gothenburg to study computer engineering at the Chalmers University of Technology, maintaining his passion for photography on a freelance basis. Upon starting to work with a DSLR Canon EOS 350D camera did his freelancing take off with a number of established corporations seeking projects from him. Having consequently moved to Norrköping (Sweden) and Berlin (Germany), Johansson is currently residing in Prague, Czech Republic. He has enjoyed wide commercial success after doing a TED talk in London in 2011, culminating in the release of his first artist book titled IMAGINE in 2016. Alongside the commissioned projects that Johansson has collaborated with on the museum side, he has also been very in demand with corporate brands such as Volvo, Google, Microsoft, Toyota and National Geographic.