all news
announcements
Free admission to the museum on May 9
On May 9 free admission to Erarta museum will be provided to several categories of citizens.
Dear friends!
The 9th of May will stay in our memory as the day of national proud for our country and our people. We sincerely wish you all strong health, peaceful sky, happiness and prosperity!
On May 9 Erarta will operate as usual, from 10:00 to 22:00. You will see such interesting projects as op-art of the legendary Victor Vasarely, exhibition dedicated to the 100th anniversary of the beginning of World War I and many other events.
Free admission to the permanent museum exhibition will be provided to the following guests:
veterans, participants and invalids of World War II;
awardees of the medal "For the Defense of Leningrad" and the Residents of Besieged Leningrad;
former prisoners of concentration camps, ghettos and other places of forced imprisonment, created by the Nazis and their allies during World War II.
We congratulate you on the Victory Day and we are looking forward to seeing you in our museum!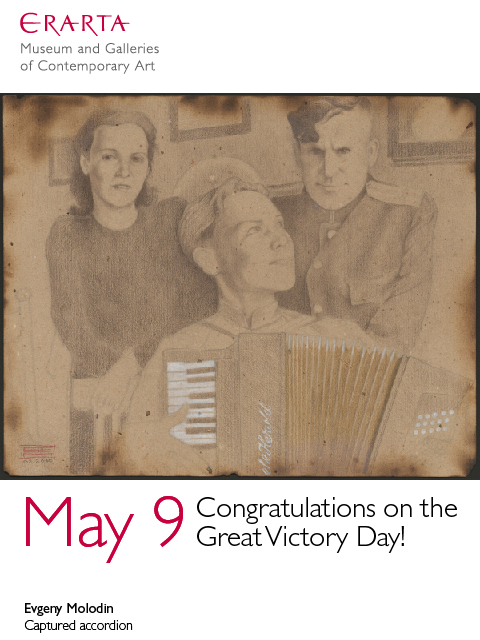 Спасибо!
ЭРАРТА — самый масштабный проект в сфере современного искусства России. Это новый подход к популяризации искусства и к зрителю, стремление построить новую систему взаимоотношений людей и искусства.